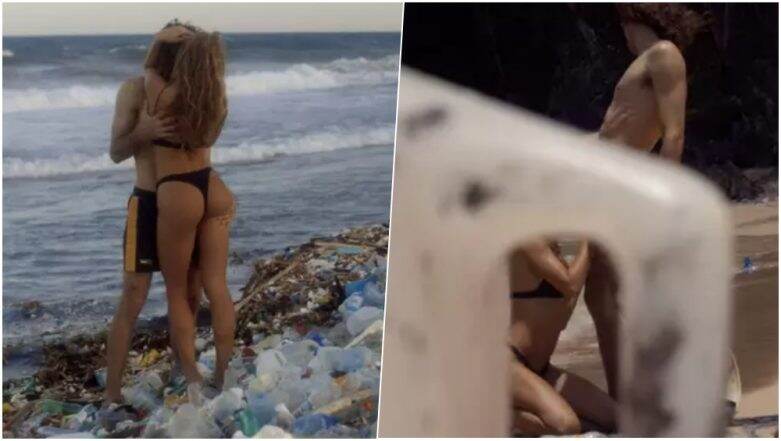 Adult entertainment site Pornhub has joined hands in cleaning the beaches riddled with plastic waste. In an innovative campaign called Dirtiest Porn Ever, they gave made a raunchy video to give out an important message. Starring pornstar couple Leolulu, the video has them indulging in some XXX scenes on the beach. But they smartly cover the revealing body parts with plastic waste material. The raunchy video gets a surprise twist and a very relevant message of keeping the beaches free of plastic waste. Porn Ban in India Hasn't Stopped People From Watching XXX Videos, Search Trend for Pornhub Proxy & XVideos2 Websites On Rise.
The philanthropic arm of Pornhub, Pornhub Cares has made a video on the world's dirtiest beaches. As Leolulu engages in sexual activity, the screen flashes "The dirtier the better" zooming out to the dirt on the beach. It talks about waste washing up ashore. As the couple decides to get 'dirty,' the cleanup crew gets to work cleaning all the waste. Pornhub has tied up with an organisation called Ocean Polymers, a nonprofit that specializes in solutions to collect and process plastic waste from the world's oceans. Every view on this video will make a small contribution to them. Plastic Pollution: Microplastics Found in the World's Remotest Ocean by Volvo Ocean Race Science Programme.
Watch Video of Dirtiest Porn Ever (Viewers discretion advised):
Talking about this campaign, Corey Price, vice president of Pornhub said, "Ocean pollution has grown to become of the most significant global issues of our lifetime, and it's only getting worse. That's why it's imperative that we use our platform to raise awareness and inspire change - not just for the time being but for generations to come. We're dirty here at Pornhub, but that doesn't mean our beaches need to be." In the campaign, they are asking users to follow three simple rules — Buy and use little plastic as possible, recycle single-use plastic, always clean up after yourself after enjoy the great outdoors.
It is surely an innovative way of getting attention to an issue that is very important. We all are collectively responsible in a way for the waste that goes in the ocean bodies. And Pornhub has made a sure-shot way of getting the attention of porn viewers.