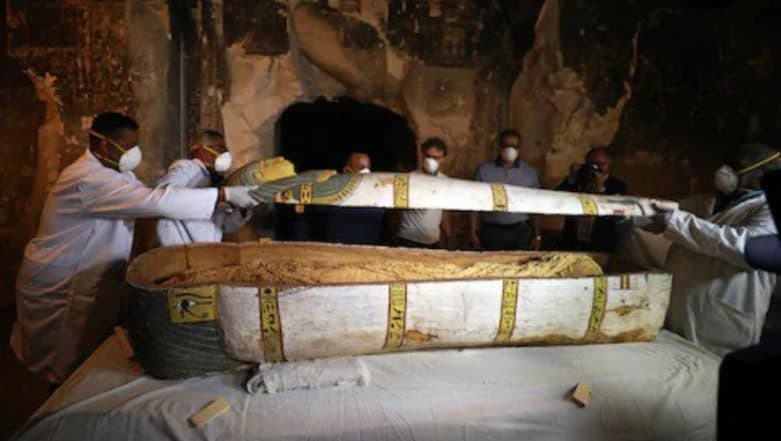 Experts discovered 3000-year-old mummy of a woman inside in southern Egyptian city of Luxor. The ancient unopened coffin was one of the two ancient coffins found earlier this month. It was a French-led mission in the northern area of El-Asasef necropolis on the western bank of the Nile. Authorities live streamed the unveiling of the second mummy on Saturday and disclosed its contents to viewers. This is the first time the country live telecasted the opening of a sarcophagus to the international media.
The first mummy was opened in private for examination. Reuters quoted Egypt's Minister of Antiquities, Khaled Al Anani as saying, "One sarcophagus was rishi-style, which dates back to the 17th dynasty, while the other sarcophagus was from the 18th dynasty. The two tombs were present with their mummies inside." 2100-Year Old Egyptian Mummy Thought to be a 'Hawk' is Actually a Stillborn Baby.
They also discovered 1,000 funerary statues at the site. Ancient Egyptians mummified bodies of their dead to preserve it for the afterlife. The Eighteenth Dynasty dates back to the 13th century BC, a time period which is known for the rule of Pharaohs, a title for monarchs. Mystery Behind 4000-year-old Mummy Found at Deir El Bersha, an Ancient Egyptian Necropolis Solved by FBI.
Here are pictures of the mummified woman:
#Egyptian Archaeologists unveil newly #discovered #Luxor #tombs

A #Mummy of a woman has been unveiled by the Egyptian authority on Saturday and it is believed that the mummy dates back to more than 3,000 years.#Egypt #Egyptology #Egyptologist #History #EgyptHistory #Ancient pic.twitter.com/EBFJEu60iL

— Trips In Egypt (@TripsInEgypt) November 26, 2018
This mummy was located at Al-Assasif necropolis, situated between the Valley of the Queens and the Valley of the Kings. It is the burial site of nobles and officials close to the pharaohs. The ministry said that the tomb belonged to Thaw-Irkhet-If, the mummification supervisor at the Temple of Mut in Karnak.
This year, Egypt unveiled more than a dozen mummies. Egypt expects the discoveries to improve their tourism. Egypt tourism has seen a dip since the political turmoil took made things worse in 2011. Earlier Egypt was known for its pyramids and would receive scores of tourists to visit their ancient structures. The Eighteenth Dynasty which dates back to the 13th century BC, a time period which is known for the rule of Pharaohs, a title for monarchs.