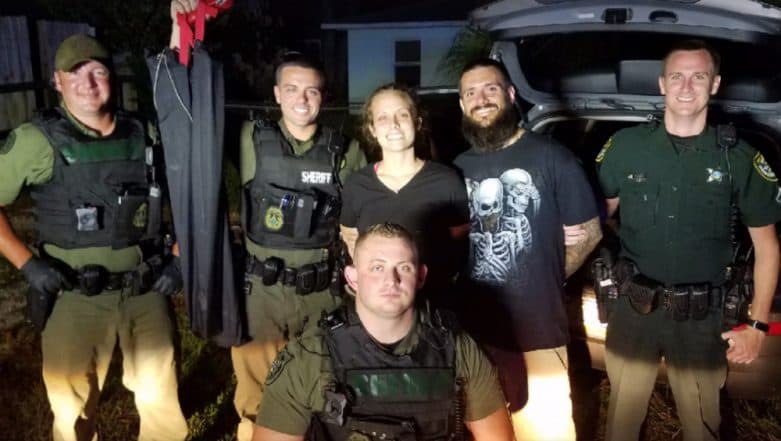 Going to jail is a terrifying thing. The shock and confusion you experience could get you into a worse situation than whatever got you into the mess in the first place. Unlike regular criminals, a couple in Florida thought of appearing differently in the Sheriff's records. Much in breaking the norms, this fugitive Florida couple who have been on the run for two months posed and smiled with the police officials after they were arrested following a high-speed chase. The Volusia County Sheriff's shared the video and photos of the couple, all smiles on their Facebook page are going viral.
As mentioned by the Sheriff deputies, the couple was identified as Matthew White, 32 and Amber Taynor, 24 were on the search list since May in connection with the theft of two pressure washers from popular American MNC, Walmart and several other felony charges. A deputy spotted them on July 12 in a stolen vehicle car. The Sheriff office helicopter, Air One monitored the car's location as it fled and hit a set of stop sticks organised in their path.
Watch the video of the couple posed and smile after they were arrested.
In the video, an officer could be heard saying, "We're getting a photo with you guys, just so you know. So, look good." Taynor replied, "Should we smile?" The Volusia County Sheriff officers involved in the arrest stood next to White and Taynor while clicking the picture. In addition to various other warrants, White was arrested on 15 charges that included theft of a motor vehicle, tampering with physical evidence, drug possession and driving while license was suspended. Taynor, on the other hand, was charged with possession of heroin and narcotics paraphernalia.