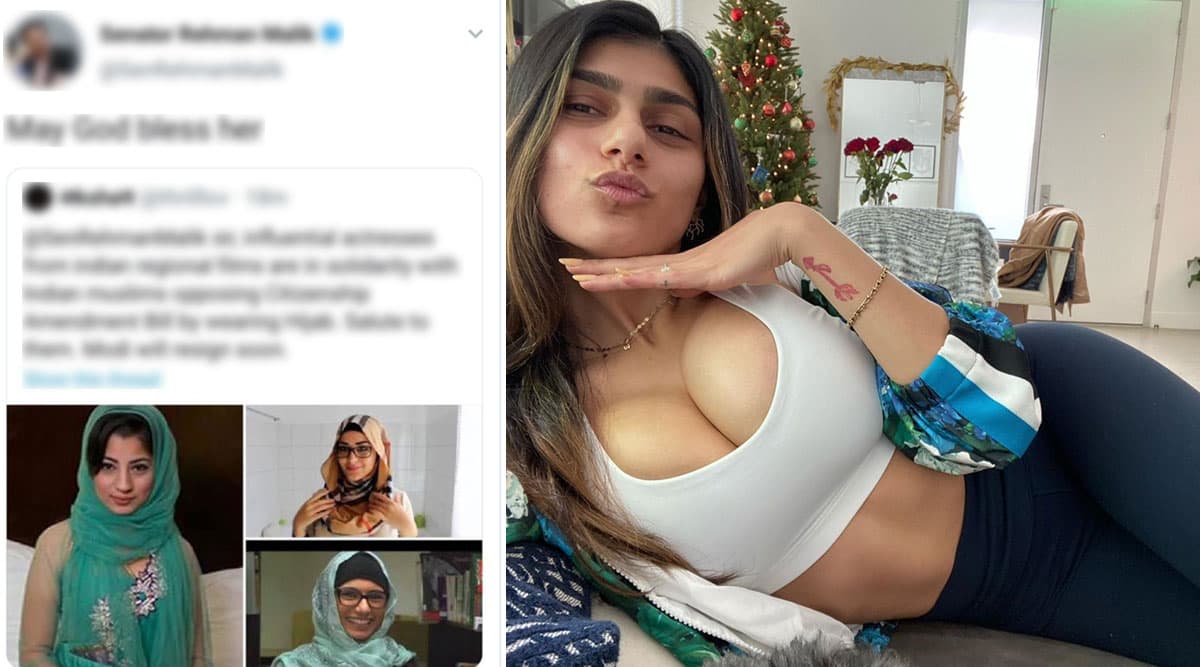 A tweet screenshot is doing the rounds on Twitter since Monday that has captured former Pak Minister Rehman Malik "blessing" Mia Khalifa for "being an Indian Muslim and protesting against CAA by wearing a hijab". Former Pakistan home minister and senator Abdul Rahman Malik shared a photo of a former XXX pornstar Mia Khalifa in connection with a post that said Mia Khalifa was standing up for Indian Muslims by wearing hijab as a form of protest. With an intent to oppose the policies of the Indian government and Prime Minister Narendra Modi, the post was tagged Abdul Rahman Malik and read: "Sir, influential actresses of Indian regional films have shown solidarity with Indian Muslims opposing the Citizenship Amendment Bill (CAA) wearing a hijab. Salute to him, Modi will resign soon."  Porn Star Johnny Sins 'Features' as Kashmiri Man Hit By Pellet Gun in Former Pakistani High Commissioner, Abdul Basit's Fake Tweet.
Replying the tweet that said former adult porn star Mia Khalifa was showing solidarity with Indian Muslims, the former minister thanked her for "showing solidarity" and wrote: "God bless her." Rahman Malik who has been an officer of the Federal Investigation Agency is now being trolled brutally online for this mistake. The three photos in the viral post are of different girls out of which two are pornstar Mia Khalifa and Nadia Ali.
Check Tweet:
Senator Rehman Malik gives his blessings to pornstar Mia Khalifa for showing solidarity with Indian Muslims. pic.twitter.com/GwlSKlvuf8

— Naila Inayat नायला इनायत (@nailainayat) December 30, 2019
Check Reactions:
Haha woh Abdul basit Johnny Sins ko kashmiri bata ta hai aur yeh Mia Khalifa ko Indian Muslims...inko inki DVD dekho...😂😂😂

— TruthSeeker (@abhyuday_2011) December 30, 2019
LOL
— Crish Bhatia (@BhatiaCrish) December 30, 2019
ROFL
@JohnnySins .. Pls we need shout out at this... Ur thoughts pls 🙏 pic.twitter.com/iAvxz4Eb9a

— Black_Cobra.. ↙️| கருநாகம்|ಕಪ್ಪು ನಾಗರಹಾವು|काला नाग (@Kaala_Nag) December 30, 2019
Realising his mistake, he immediately deleted his post. But by then users had taken a screenshot and started trolling fiercely online. Remember the time Pakistan Prime Minister Imran Khan talked about Japan and Germany's sharing borders? And the former Pakistani high commissioner mistook a pornstar, Jonny Sins as being a Kashmiri man blinded by pellets? Well, looks like the year had to end with another blunder, after all.