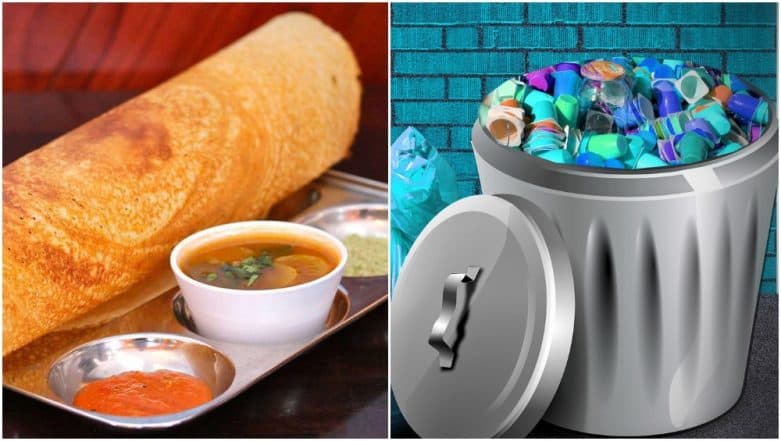 Plastic is one of the worst pollution causing agents in today's times. While various means have been adopted by different world governments to save the planet from plastic pollution, the issue has gone beyond control. The need of the hour is to lessen the use of plastic items in our daily life and avoid single-use plastic. Different organisations, agencies, restaurants and corporates have multiple times in the past set an example by using alternatives to plastic. And joining the bandwagon is a cafe in Ambikapur, a city in the state of Chhattisgarh. Known as Garbage Cafe, this place that falls under Municipal Corporation, provides food to the poor and homeless in return of plastic waste. Does Your Purse Have More Bacteria Than a Toilet Seat? Tips to Keep It Germ-Free.
Those who bring one kg of plastic waste will be offered a full meal while those collecting 500 grams of waste will be given breakfast. Ambikapur which has been ranked second cleanest city in India after Indore, has plans to use the plastic for construction of roads. Mayor Ajay Tirkey who presented the city's municipal budget on Monday said that the cafe will operate at the city's main bus stand. The Garbage Cafe Scheme tries to provide shelter for the underprivileged with a budget Rs 5 lakh for the Garbage Cafe Scheme. SunnyBee Store in Chennai Adopts Banana Leaf Packaging For Vegetables, Following Thailand's Supermarket Example (View Pics)
Ambikapur already has roads which are made of plastic waste. The first road in the state was made by mixing eight lakh plastic bags along with asphalt. The Garbage Cafe scheme is linked to the Government's cleanliness campaign 'Swachh Bharat Abhiyan'. The city's municipal corporation efforts have led to a tremendous decrease in the use of plastic bags.