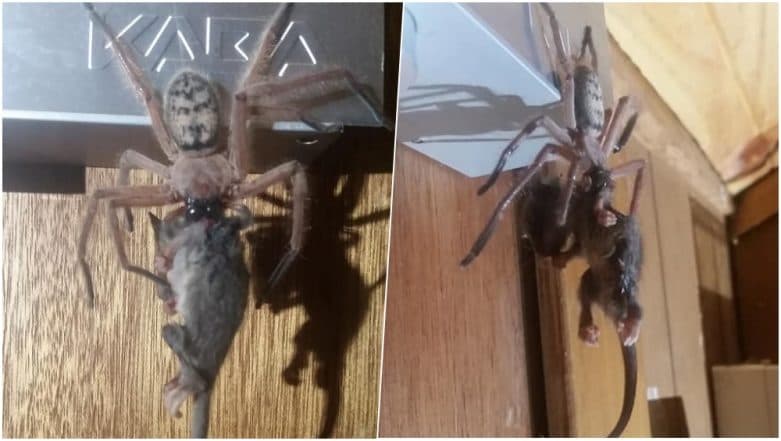 An Aussie couple who was on a road trip to Tasmania had no less than a nightmarish sight in their hotel room. Justine Latton and her husband headed over for a weekend in Tasmania's Mount Field National Park when they saw a huntsman spider eating a pygmy possum. So their outdoor supposed 'fantasy' turned nightmarish after they saw a giant hairy spider gobbling up its prey. The couple took a picture of the attack and shared them on a Tasmanian Insects and Spiders Facebook page. The terrifying pictures went viral. Spider With Human Face Found in Assam, Watch Video of Literal 'Spiderman'!
The couple stayed at a lodge in the Mount Field National Park, northwest of Hobart. The pictures posted on the group received a lot of love from nature lovers. People were left in awe, some excited to see the 'great specimen of nature.' For those phobic of arachnids, it was no less than a nightmare. Python Eats a Crocodile! Photographer Captures Incredible Pictures of the Attack in Queensland, Australia (View Pics).
View Pictures of Spider Eating a Small Possum in Tasmania:
Isn't it terrifying? The pictures have been liked over 6000 times. People were shocked at how the spider could've managed to kill the possum, while other bewildered at the amazing nature. One of the comments rightly called it a once in a lifetime opportunity. Some others rooted for the strong spider.
The arachnid species of huntsmen spider are known for their mode and speed of hunting. They also are called giant crab spiders because of their size and appearance. They are usually found in woody places and use their venom to immobilize their prey.