A python snake is one of the most dangerous snakes in the world because it can devour almost anything! Although not venomous, the snake is known to coil around its prey, kill them and then feast upon the entire body. A photographer named Martin Muller has recently captured some shocking pictures of a python devouring another large reptile, a crocodile! Graphic pictures of the attack were taken from a murky swamp in Australia's Queensland region. Soon as the pictures were shared on social media, they went viral. Shocking Video of Giant Python Eating an Indonesian Woman Will Freak You Out: Disturbing Images of Human Body Found in Big Snake's Belly.
Mr Muller was kayaking in Queensland's Mount Isa when he captured the rare sight. It was an olive python, which is known to be Australia's largest snake. The python was seen devouring an entire freshwater crocodile. The images were shared on Facebook by GG Wildlife Rescue Inc. People on social media were not just shocked at the snake's strength but also wondered how someone would put their own life at risk to capture this feeding frenzy. Ssscary Kiss! Brisbane Woman Wakes up To Find a Python Hissing Right Next to Her.
View Pics of Python Feeding on a Crocodile: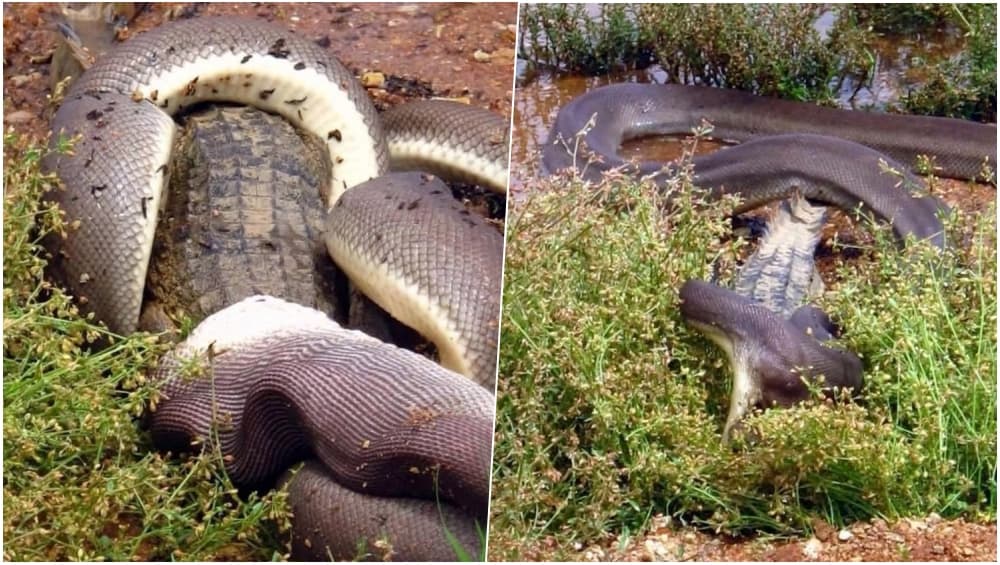 These photographers are just squirming. Some people even commented that they thought the croc would win in this case. GG Wildlife Rescue Inc owner was quoted in Daily Mail report, "It's common for snakes to eat pretty much anything if they can fit it in their mouth." These snakes can unhinge their jaw to bite on bigger objects, she added. Pythons can be very dangerous and this incident just proves it again.
(The above story first appeared on LatestLY on Jun 17, 2019 01:53 PM IST. For more news and updates on politics, world, sports, entertainment and lifestyle, log on to our website latestly.com).