Hima Das scripted history last week by becoming the first Indian woman athlete to win a gold medal at the world level. Das garnered the spot in the women's 400m final race in the IAAF World Under-20 Athletics Championship in Tampere, Finland. Proud Indians took to Twitter impressed by Das' performance putting India on international spotlight. However, it seems Indians on social media are equally curious about Hima Das' caste. What is its relevance to her achievement?
Well, nothing, but how can we appreciate someone without knowing their caste. Following the 18-year-old' win, Google searches showed a tremendous spike in people searching for the athlete's caste. Type 'Hima Das' into Google and 'Hima Das caste' is the first search after her name.
The searches about Das mostly came from Assam, followed by Sikkim and Arunachal Pradesh as Manipura and Puducherry followed. While searches relating to 'Hima Das caste' came majorly from Bihar followed by Uttar Pradesh.
Here's a screenshot of the Google searches for 'Hima Das caste':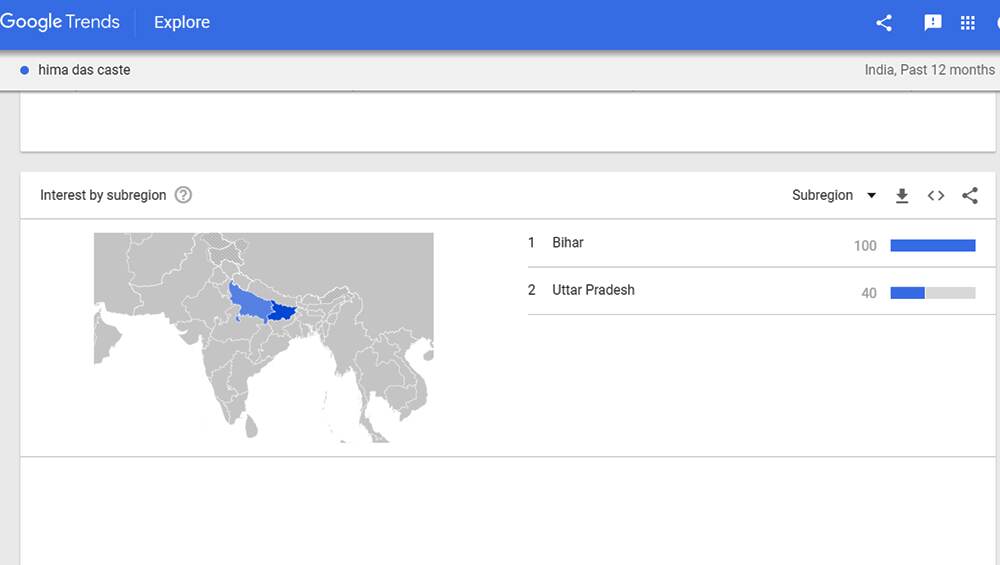 Meanwhile, some took to social media expressing anger over the practice:
How people searching for 'Hima Das Caste' on Google is everything that's wrong with our society. Fans were rejoicing and internet was going crazy with everybody showering praises. But guess what many people were searching for the most? Her life story? No! sadly It was her caste! pic.twitter.com/quXeCUF6RY

— Nandan Pratim Sharma Bordoloi 🇮🇳 (@NANDANPRATIM) July 15, 2018
This is not the first time we searched for castes of athletes following their international win. There was a tremendous spike in caste search of PV Sindhu and Sakshi Malik after they won silver and bronze respectively at the 2016 Rio Olympics.
It is just embarrassing how we as a country are obsessed with people's caste and still give undue importance to the human-made segregation. Instead of showering the girl with words of encouragement and supporting her, we make headlines for searching her caste. It is high time we understand and give importance to a person's talent and not something the person did not own for himself/herself.
Prime Minister Narendra Modi was all praises for Das and also expressed his delight on Twitter. He also said that he was deeply touched and moved by her gestures after the race when he goes searching India's tricolour. President Ram Nath Kovind, ministers, celebrities, social media influencers, commoners all took to social media praising the girl for the feat.