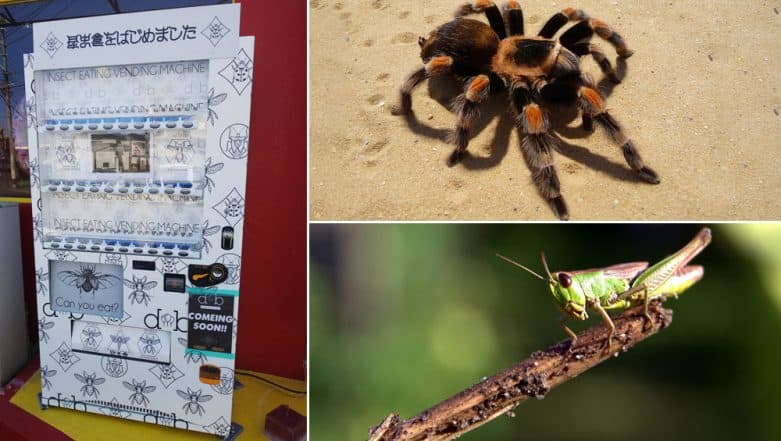 Finding a food vending machine nearby when you are hungry is a great feeling. You can grab a quick snack like biscuits, chocolates or a pizza slice from some of these machines. But unless you are in Japan, you are going to be irked out by what you are offered. There is an insect vending machine in Japan that is selling bugs as a way to resolve the food shortage. So yes, the food shortage crisis is very much real and we will soon have to crunch on insects! Will Eating Insects Be a Need of Future? Growing Population Could Promote Insects as Superfoods.
34-year-old Toshiyuki Tomoda, who runs a balloon shop in the city has installed this insect vending machine in last November and people are already loving the idea! His machine has not 2 or 3 but about 10 insect snacks available. So from crickets, shrimps, beetles to tarantulas, he has a variety to offer. Tomoda is very serious about the environmental issues and discussed them with his friends. On talking about the food shortage that will soon start coming in, he decided to start this. So there are cricket protein bars, unicorn beetles, canned tarantulas in his machine.
The canned tarantulas go for 1,900 yen each. And the cheapest item here is powdered crickets priced at 700 yen. The most popular item that is sold is a pack of salted crickets priced at 1,300 yen. Eat Crickets For A Healthy Stomach? 5 Facts About Eating Insects, Bugs and Other Creepy Crawlies.
He got a stock of about 500 items and during the first month of this machine and his stocks sold out well. People were okay to replace their snacks with insects. Talking about it he said, "I hope the machine will provide people with an opportunity to review the importance of food in this food-infatuated age." The Japanese have welcomed the idea, but that sure not may be the case somewhere else.