Work is worship we learnt as children and all work should be done with equal respect and dignity. Every work will pay in cash or kind, but a sweeper from Andhra Pradesh has literally floored people with her salary. A message has been going viral on social media platforms like WhatsApp and Facebook about a sweeper's salary slip. A sweeper from Andhra Pradesh named Venkataramanamma Kola is apparently earning Rs 1,47,222 per month. She works as a sweeper cum gardener at Eastern Power Distribution Company in Rajahmundry, AP. No wonder, people vouch for government jobs after all! But is this message true or is the image fake? WhatsApp Fake Message: Hoax Claiming to Be From TRAI Suggests Using Right Thumb Impression to Open Websites Can Leak Your Biometric Data. 
A sweeper's salary crossing one lakh rupees can put several educated and struggling employees to shame. The message would come across as fake but certain reports online state that it is a result of her dedication and reforms in the company. She has been a permanent employee with the company since the year 1981. The electricity department has undergone several reforms from the past years. The reforms brought in by Chandrababu government when he was the Chief Minister (CM)  and more power supply was created. Sukanya Samriddhi Yojana Gives Rs 10,000 on Registration is Hoax! 
Check the Salary Slip of Sweeper From Andhra Pradesh That Is Going Viral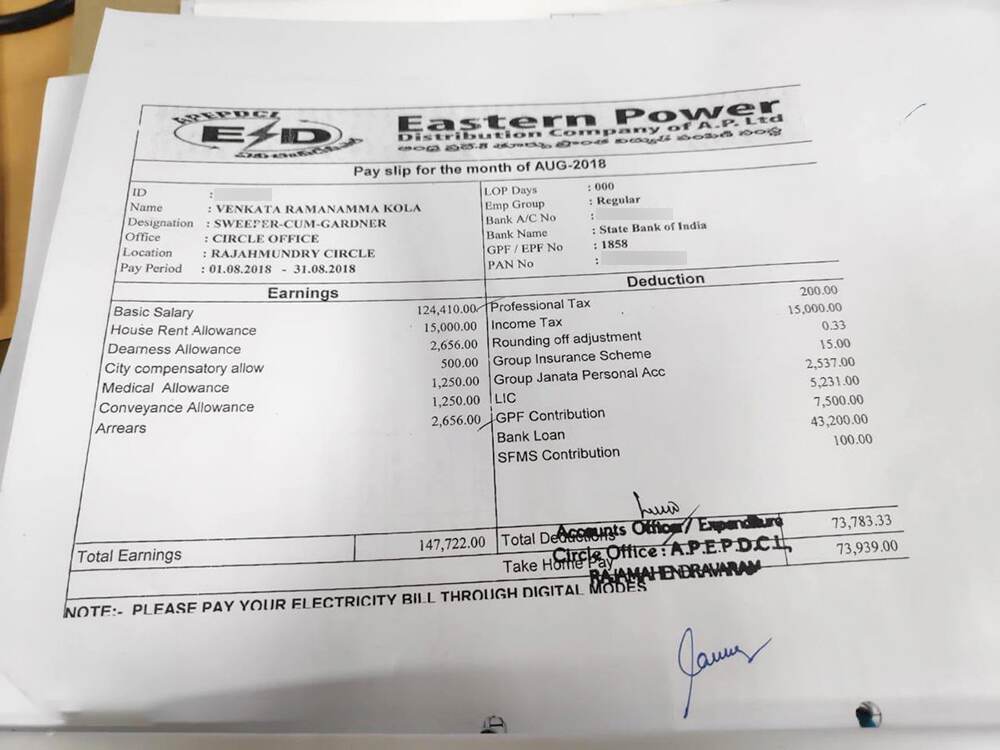 One of the important things of this reform was the employees since they have no pension after retirement, their salaries were increased. The sweeper is a senior, considering her years of work in the organisation. Another online report also states that she manages both her work and family well. She works round the clock, starting from 8 in the morning to 8 pm. She is a mother of two and one of her son is suffering from a heart disease. The loan that is shown in her salary slip was taken to build a house. Well, as per these reports there seems to be truth behind this 6-figure salary of a sweeper.