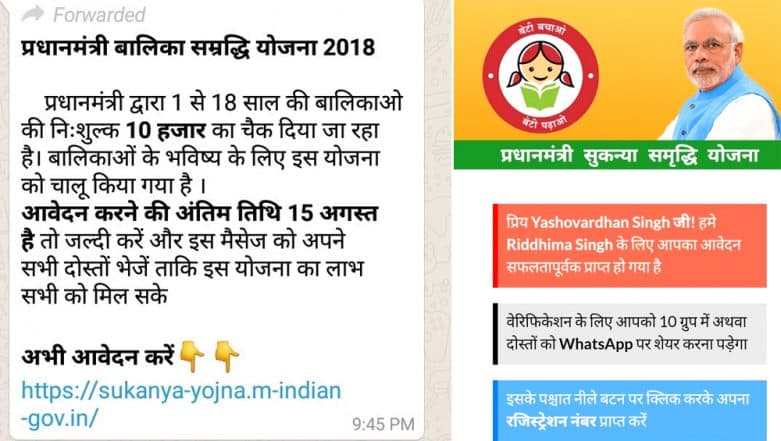 In the time of internet and easy money, it is also very convenient to make and spread fake messages. Messages claiming to win big prize money, gifts, holiday trips etc have been spamming our folders. Fake messages have only increased in the recent times. Now yet another message involving the Sukanya Samriddhi Yojana is being forwarded. A fake message has been circulating that just registering on the site will give you Rs 10,000. The popular girl child savings scheme asked people to donate Rs 1000 per month which can be utilised by the girl post the age of 10.
The savings scheme was started in the year 2015 as a part of the Beti Bachao, Beti Padhao campaign. This scheme would encourage parents of a girl child to start early savings for her future education and needs. The interest rates also have been revised from time to time. The current interest rates have been fixed at 8.1 per cent for the September quarter this year. Among all the benefits of the scheme, a fake message is being forwarded, asking users to just make an account on Sukanya Samriddhi Yojana's website and get easy money. A Twitter user pointed it out. The website asks to send it across to 10 contacts to get the money. Instead, the clicks on this website will only help the website to generate more money through their ad revenues.
Here is the fake message that is being forwarded on WhatsApp:
"*प्रधानमंत्री बालिका सम्रद्धि योजना 2018*
प्रधानमंत्री द्वारा 1 से 18 साल की बालिकाओ की निःशुल्क *10 हजार* का चैक दिया जा रहा है। बालिकाओं के भविष्य के लिए इस योजनाको चालू किया गया है । 
*आवेदन करने की अंतिम तिथि 15 अगस्त है* तो जल्दी करें और इस मैसेज को अपने सभी दोस्तों भेजें ताकि इस योजना का लाभ सभी को मिल सके
*अभी आवेदन करें*
👇
👇
https://sukanya-yojna.m-indian-gov.in/
Take a look at the tweet about the fake message regarding Sukanya Samriddhi Yojana:
@PMOIndia a message is being circulated that Rs 10000/- is being given to evry girl child by simply registering to sukanya yojna. Following is the attached pic. pic.twitter.com/n3yRM2gRnq

— ronak mehta (@mehtaronak27) August 9, 2018
The truth about this message was also debunked by the Hoax Slayer. The 'forward to 10 people' part gives away it is a fake message. A closer look through the message will also give out its flaws. All links to government websites will end only in: .gov.in. The mentioned website url has m-indian-gov.in, which shows it is fake. This is not the first time a fake message has been spun around the savings scheme. Earlier there was a message that depositing money for 14 months will give you 6 lakh rupees. WhatsApp Fake News: After Free Cycles, New Message Says Narendra Modi Government Will Distribute Free Helmets And Scooters on August 15, 2018.
Take a look at the video busting the truth about Sukanya Samriddhi Yojana's fake message of making 6 lakh rupees:
Do not fall prey to such hoax messages, no website will give you such money by simple registration. So if you know of someone who is utilising this saving scheme and might fall prey to it, alert them. Do not send the fake messages regarding this scheme.
Fact check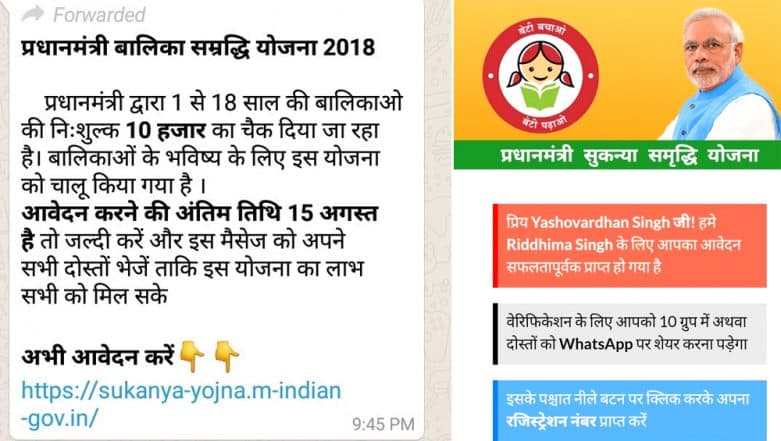 Claim :
Sukanya Samriddhi Yojana Gives Rs 10,000 by just registering on the site.
Conclusion :
Do not fall prey to such hoax messages, no website will give you such money by simple registration.