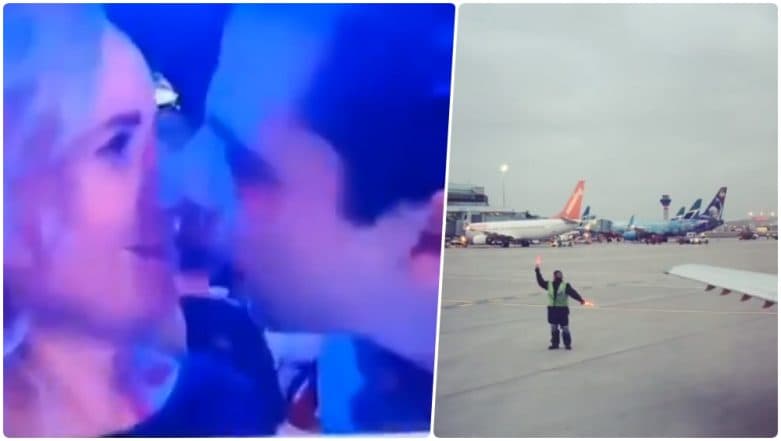 We have just entered the New Year, and there are so many videos hitting the internet already. With just the beginning of the year 2019, netizens have not really spent much time without sharing some quirky, funny or incredibly cute video clips on social media platforms. It is rare when one video breaks through the clutter to become viral. But when it does, they just continue to break all the view records. From Dutch man's awkward attempt to get kissed to the crazy American Airlines agent solid dance moves on duty, these videos scream that it is all a teaser to 2019 viral moments. Florida Man Attacked a McDonald's Employee for Not Getting a Plastic Straw, Gets Arrested. 
Last year, various video contents were shared on social media platforms, and a few were hard to miss, which still prevails in the netizens mind. People are still not over with India's Dancing Uncle moves, and here we have the list of viral videos which have entered 2019 hilariously.
Dutch Man's Awkward Attempt to Get Kissed on New Year's Eve
I hope your 2019 starts off better than this guy's pic.twitter.com/iDB7Cr0b7W

— Rex (@ThatRexGuy) December 31, 2018
Kissing their partners after the countdown to the New Year is a long-known tradition followed by many countries. But not all have been lucky in getting the kiss. This video of a Dutch man's awkward or rather a desperate attempt to get a New Year kiss was widely shared and got Twitter to cringe over it.
New York Couple Caught Having Sex Live at 2019 New Year's Rockin' Eve
This viral video circulating across social media puzzled the netizens and generated plenty of debate over exactly what was happening. However, the video shows people including those standing closest to the couple—didn't seem to notice anything at all. It is still not clear if the couple was actually having sex, but they surely had an excellent start to the New Year.
Thirsty Koala Drinks Water From Bottle in Australia
The start of the year has been scorching for the people of Australia. Apart from the cheekiest list above, this viral video showing a Koala drinking water from a bottle has melted the hearts of the netizens. The woman is seen holding a plastic bottle of water towards the mouth of the animal who drinks it sincerely.
Squirrel Caught Eating an Egg Roll in New York
Doesn't look like this squirrels first egg roll #whatisnewyork pic.twitter.com/Heo30oe8w3

— WhatIsNewYork (@whatisny) January 2, 2019
This quick clip shows a squirrel sitting on a tree and enjoying an egg roll with much comfort has amused the internet. Apart from enjoying the delightful sight, people online were also speculating how it must have sneaked the roll.
American Airlines Agent Solid Dance Moves to Signal Plane Take-Off
View this post on Instagram
A very recent one this American Airlines agent had become a social media celebrity when a passenger took a video of him shaking legs on the runway. The man was on duty directing planes for take-off at Toronto Pearson International Airport. While he enjoys dancing on the tarmac, he dreams of becoming a pilot.
These are the videos which have taken over the internet at the very beginning of the year! From hilarious to bizarre, we are so looking forward to more viral content that is slated to break all the records on the internet in 2019.