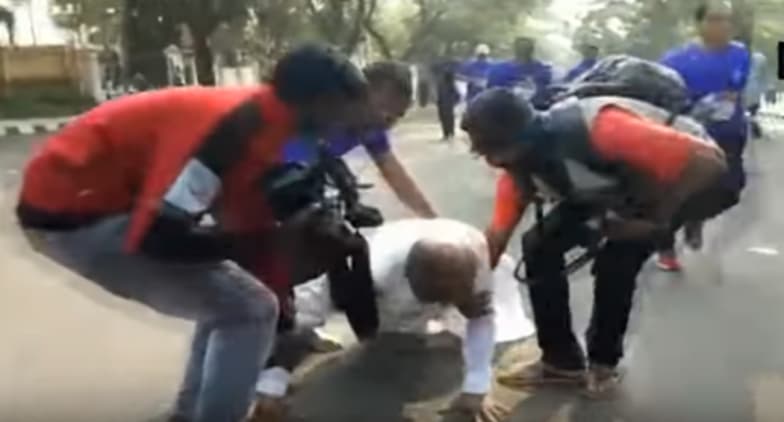 Mysuru, October 15: Karnataka's higher education minister G. Tammegowda Devegowda under the Kumaraswamy's government was seen tripping and falling while he running a half marathon in Mysuru. The event was recorded when GT Devegowda was running a Dasara Half Marathon in Mysuru city.
In the video, he was seen wearing a 'lungi', a traditional attire worn on the waist. Devegowda also sustained minor injuries on his face and legs. After he tripped down, a group of people came to help him. Dasara marathon is conducted every year by the Mysuru Dasara Sports Committee and DYES, in collaboration with the Karnataka government. Air India Air Hostess Falls Off Aircraft, Suffers Multiple Fractures.
Watch Video here:
Earlier in June, Madhya Pradesh Chief Minister Shivraj Singh Chouhan was seen slipping down the stairs. The incident occurred on the second day of 'Jan Ashirwad yatra' when he completed his speech and was getting down the stairs. He was immediately rushed by the party workers and security guard. However, the Chief Minister was not injured in the incident.