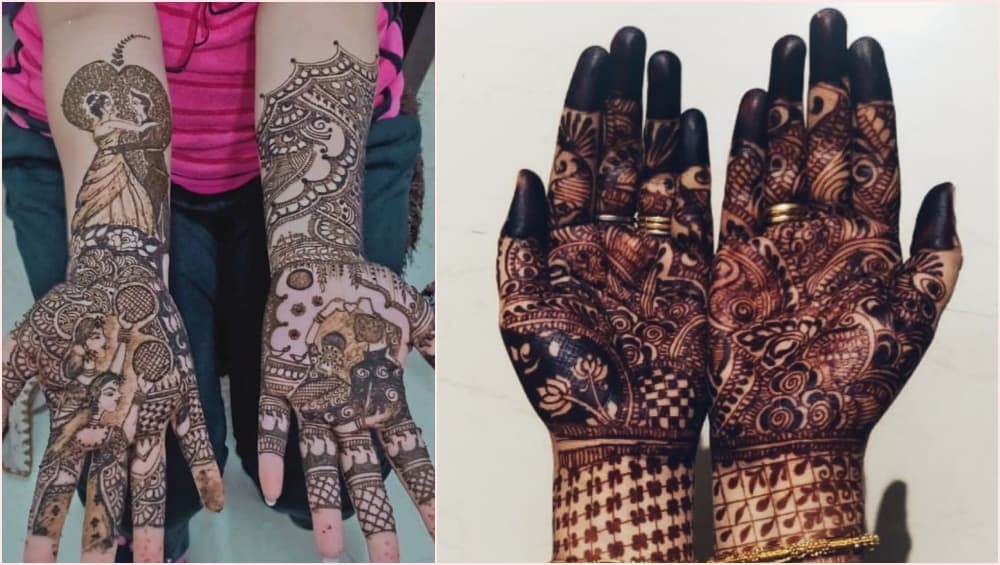 One of the most promising festivals in India, Karwa Chauth is here. Married women across the country have been busy since last night, preparing themselves to observe the day-long fast; Karva Chauth 2019 vrat which falls today, October 17, 2019. It is a time of merriment and not only for the married ones. Unmarried women also observe this auspicious occasion. Of all the rituals and traditions, it is the stunning Karwa Chauth mehndi designs that our lovely ladies gracefully shows off. This time, they have taken it to Twitter. Yes, the social media platform is flooded with Karva Chauth 2019 mehndi design images. The pictures shared online show beautiful henna patterns, ringing in the festival. Watch Video Tutorials to Apply Arabic Mehandi & Indian Henna Patterns on Hands for Karva Chauth Vrat!
Applying mehndi during a festival has always been a significant ritual that women happily follows. The increasing trend has led the artists to improve their skills and come up with more beautiful designs. And the results are so impressive. Plus, the darker the outcome, the better it is. These images surfacing on Twitter speaks volume of how joyously the Karwa Chauth festival is celebrated. 7 Tricks and Tips to Get the Darkest Mehndi Colour Naturally at Home for Karva Chauth Vrat. 
View Pics:
#KarwaChauth special mehendi !!

Cold coffee made by Mr. Husband who's responsible for tomorrow's fast. Although he also would be fasting but since no mehendi, hence no such privileges 😬😬 pic.twitter.com/CXgdAJYVuY

— Nidhi Sharma (@pedestrianwoman) October 16, 2019
Never Say No to Mehndi:
#HappyKarwaChauth ladies! Though cant fast but #mehendi is always beautiful #ThursdayThoughts pic.twitter.com/cn8Tktsdn0

— Swati Sachdeva (@swatisachdeva_) October 17, 2019
This One is So Beautiful:
All you want is beautiful mehndi, not fast. 😝 #KarvaChauth pic.twitter.com/6lpD7E7Yde

— Lazy Cat (@uPoliticat) October 17, 2019
Look At the Colour:
My love for mehendi ...all set.. pic.twitter.com/kh9XkeNdbT

— Nikita Sharma (@Nikshavaish) October 16, 2019
How Cool Is This?
So I messed up Sneha's plan for Karwa Chauth last night due to something urgent and then late night did this for her. After several iterations this came up well and now we both are giggling 🤭👫

Used a bangle and earbuds to make designs. pic.twitter.com/HsTAa3RdDN

— abhishek (@abhishek_tri) October 16, 2019
Amazing:
Lemme show you my mehndi 😻#KarwaChauth pic.twitter.com/0FpFL0mdJV

— Dr. Pratiksha Rathore (@Drpratiksha1) October 16, 2019
Karwa Chauth is not only limited to the celebration for marital bliss. Just like any other festivals in our country, the observation is many more than its traditions. Karva Chauth gives families and friends yet another occasion to gather and spend quality time. And the festivity even increases the bond between the married couples. Today, unmarried women and men observe the day-long fast of Karwa Chauth as well. With the blessings of Goddess Gauri, they devotedly celebrate the festival and seek blessings for a healthy life.