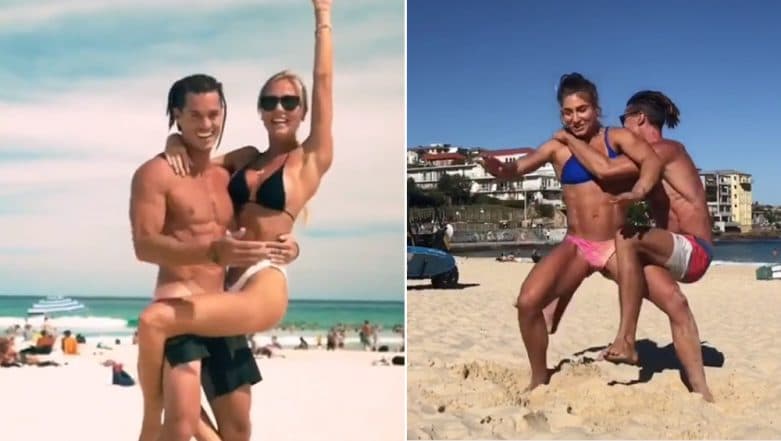 The latest internet craze to have gripped social media is koala challenge. Koala challenge which seemed to have originated in Australia involves one person climbing their partner as if they were the animal and their partner a tree. For this challenge, you need to be physically fit or maybe more than that. The Instagram challenge doesn't end there; one has to go around the tree's (partner) without falling or touching the ground. Only then the challenge would be deemed complete.
And a lot of couples completed the challenge right but many of them failed terribly, falling down on their backs. Most videos have been filmed on beaches, probably giving a softer base for those falling down. Personal trainer, Camilla Akerberg shared the video of her attempting the challenge with the caption, "Mastered the #koalachallenge on #bondibeach  This should totally classify as passing the Australian citizenship test." Many hundreds of Australians attempted the social media challenge of which most include fitness bloggers. Forget Kiki and Momo Challenge, Here are 5 Positive Social Media Challenges You Should Actually Take Up.
Watch two fitness enthusiasts attempting the Koala challenge:
View this post on Instagram
That would have been super awkward!
View this post on Instagram
That looked really difficult
View this post on Instagram
You would be glad they finished it with injuring
View this post on Instagram
This challenge aims at flaunting one's toned body and maybe showing off those abs. For those planning to attempt the Koala challenge, ensure you have a fit body, otherwise you may end up with terrible injuries. Also, you need to know the person pretty well, or else it is going to end up being super awkward to climb all over them like a koala. But, if you think the Koala challenge is not meant for you, then completely stay away from it and sit back and watch some of the videos.