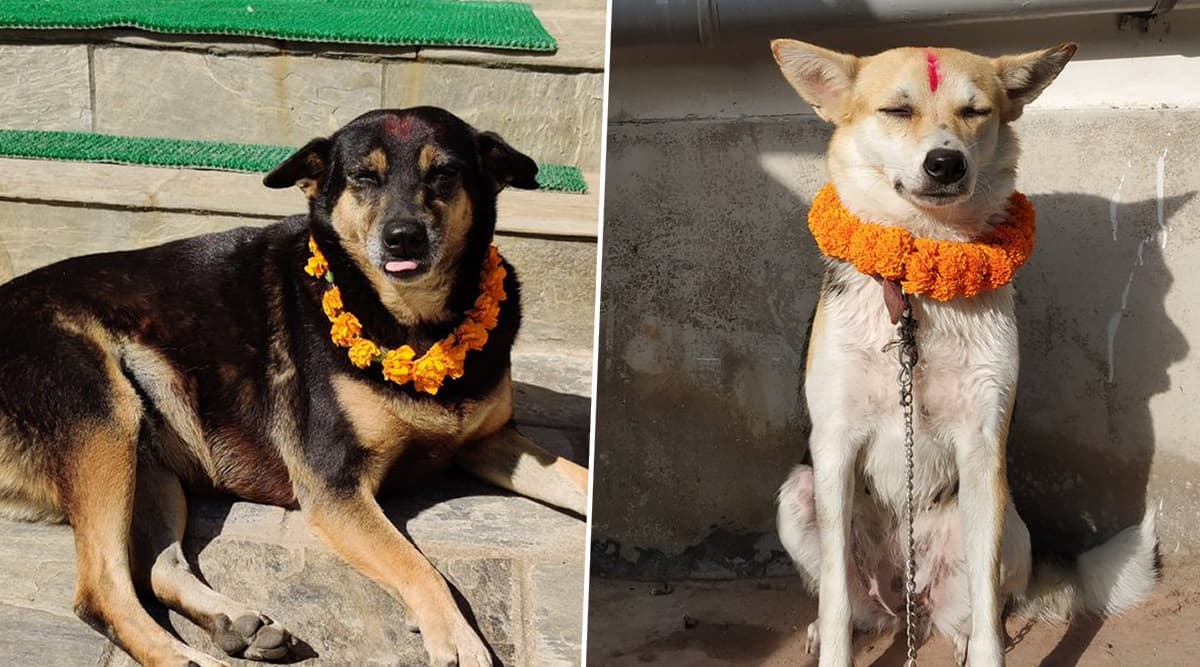 Kukur Tihar, a festival dedicated to dogs was observed today in Nepal. As crows and dogs are considered sacred in Nepali culture, they dedicate a day to worship them. Dogs are adorned with flower garlands and are fed their favourite delicacies. A ceremonial puja is conducted and a tilak is applied on their forehead. Locals celebrate Kukur Tihar treating their pets and stray alike on the day. The observance is referred to as the 'Day of the Dogs' and is largely observed in Nepal. Also known as Yamapanchak, it coincides with Diwali celebration in India. On Kukur Tihar 2019, people have taken to Twitter sharing pictures of celebrations with their canines. Adorable photos of dogs celebrating Kukur Tihar have flooded social media platforms. Kukur Tihar 2019: Date And Significance of Nepal's Dog Festival During Diwali Celebrations.
The observance is said to have originated from the fact that dogs have references in Hindu mythology. Yamraj, the God of death has two watchdogs who guard the gates of hell. It is believed that by dedicating a day for the dogs, they will be able to please Yamraj. According to Hindu scriptures, Yudhistira who shared a strong bond with the dog refused to enter heaven without the canine. According to the sacred scripture of Rigveda, Samsara, the mother of dogs, helped Indra in recovering his stolen cattle. Kukur Tihar 2019 Photos: Check Adorable Pictures of 'Day of The Dogs' Celebrated in Nepal.
Twitterati Share Pictures of Their Kukur Tihar Celebrations With Their Dogs:
It's my dog Lola's first Kukur Tihar – she was very excited, but that only meant it was an even tougher time putting the garland on her! In the end, she loved all the extra attention she received! #HappyKukurTihar 🐶🐕 pic.twitter.com/ZlLt42rXEp

— Ambassador Randy Berry (@USAmbNepal) October 27, 2019
So Adorable!
Love is a four legged word 🐾🐾

Happy #KukurTihar♥️♥️#HappyDipawali pic.twitter.com/S3uFMgQkv1

— Bibek Kumar Shah (@Bibekumarshah) October 27, 2019
Awww!
Happy kukur tihar🙏❤️❤️

thank you for your caring towards us 🙏🙏 pic.twitter.com/r36xvXG38M

— Aakar Joshi (@JoshiAakar) October 27, 2019
Happy Kukur Tihar!
No matter how many years we get with our dogs, it's never long enough.

Happy kukur tihar. ❤️❤️ pic.twitter.com/hxpvGrJCQg

— Bashu Bhatta (@bashubhatta777) October 27, 2019
The Cutest!
Goldie wishes everyone a very happy tihar #KukurTihar #nepalfestival pic.twitter.com/VyJridbIVY

— Maneesh Jung Khadka (@maneesh_jung) October 27, 2019
The Coolest One!
#KukurTihar all done at home. Khujuri looking cute af as usual 🌼🐕❤️ pic.twitter.com/U8zc0UxzDg

— aaku🍂 (@WhatThePakh) October 27, 2019
Why Are Dogs So Cute (Cries Silently):
Kukur Puja... Celebrating one of God's most amazing creations. #KukurTihar #Nepal pic.twitter.com/g34tgOqL21

— Ojaswi Rana (@ojaswirana) October 27, 2019
Cute!
Happy Kukur tihar to you and yours (from me and mine) pic.twitter.com/3areerb4gJ

— 🌻 (@_nukks101) October 27, 2019
They Simply Love The Attention!
5-day Nepalese Hindu #festival of #Tihar started this week and the 2nd day is known as #KukurTihar or "day of the dogs". #HappyDeepavali Indin Friends🐕🐕

Dogs are also given flower garlands & offered food as part of the festival.#HappyKukurTihar #HappyTihar #FestivalDay pic.twitter.com/hINfaXaOA8

— Nikita Khadka (@NikitaKhadka98) October 27, 2019
People of Nepal worship other animals and birds too. Crow is worshipped on the first day of celebrations while on the morning of the third day, cows are worshipped. People worship oxen and mountains on the fourth day of Tihar. However, Kukur Tihar has gained immense popularity in the past years while Mexico celebrating the day in 2016.