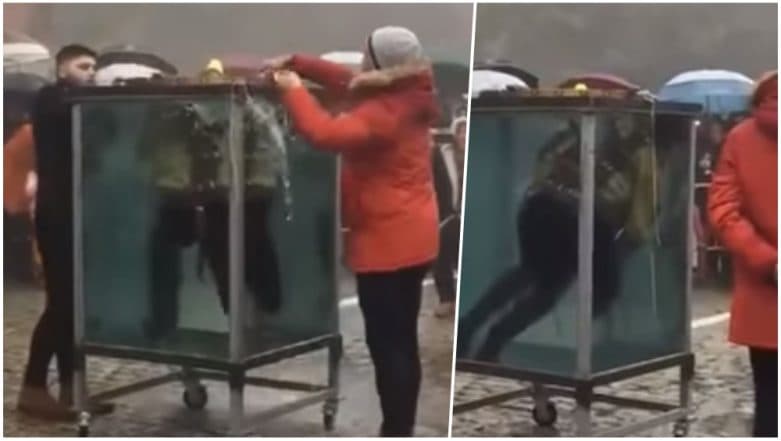 It is not easy being an illusionist or a stunt performer. There have been instances when such personalities in a bid to trick the audience have risked their life. In a recent, a magician was left in agony after a daring escape trick went wrong live. Identified as Pedro Volta, an escape artist from Northern Spain, was reportedly paying tribute to American-Hungarian Harry Houdini at an international magic festival near Madrid. The trick was to get out of a water tank while wearing a straitjacket. Unfortunately, he could not manage and started to drown. Invisible Challenge: Inspired by Netflix Show's Fake Magic People Are Making Siblings Believe They Vanished. 
To those who are unaware of the garment, a straitjacket is shaped like a jacket with long sleeves that surpass the tips of the wearer's fingers. Magicians, stunt performer mostly wears it while executing such daredevil stunt. In the video (now viral), it is not clear at first that he is struggling while on the act until his body stopped moving and he is left floating motionless in the water.
Watch the video of the escape stunt. 
With the sudden realisation, the organisers rushed to open the top of the tank and left him out. Local media reported that Volta went unconsciousness after spending about two minutes in the tank. He later told that he had a problem with a buckle on the belt restraining his arm. Metro quoted him saying, "I made an effort and managed to release the buckle but the energy and oxygen used in doing so was too much."