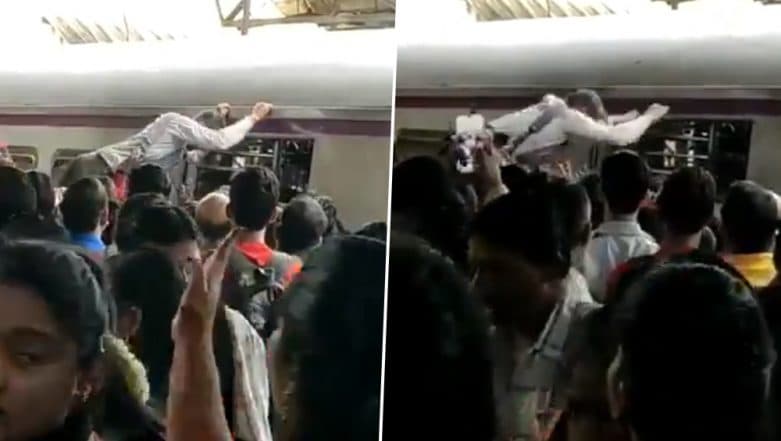 Videos of women trying to get into overcrowded local trains in Mumbai have gone viral on social media multiple times in the past. But the latest one is that of a man trying to get into a terribly packed train at a railway station in Mumbai. He tries his best to hold on to the door of the local train compartment, trying not to fall down. But as he hangs, hordes of passengers rush out of the compartment, making him almost fly in the air. All the while, he is seen holding on a rod above the door. He stays there for a few seconds before being completely carried away to the platform by the crowd. Viral Video of Sanitation Staff Dumping Garbage in a Flooding Bhiwandi River Raises Concerns Amidst Mumbai Rains.
The video has now gone viral on social media with people laughing at the condition of the man. While some compared him to Superman, others commented on the terrible condition of crowded trains in Mumbai. People of Mumbai who travel by local trains daily said that they could understand the plight of the man. Many said that while crowded trains are a norm, heavy rains make the matter worse.
Here is the Video:
just Mumbai Local things

hahahahahahaha pic.twitter.com/lL7cpBXWFK

— Godman Chikna (@Madan_Chikna) August 5, 2019
Over a couple of days, Mumbai has been witnessing heavy rains which almost brought the city to a standstill. Water-logging crippled the backbone of Mumbai as railway tracks remained underwater. In such scenarios, trains generally become terribly crowded making it impossible to get into one. It is not known on which station the above video was recorded.