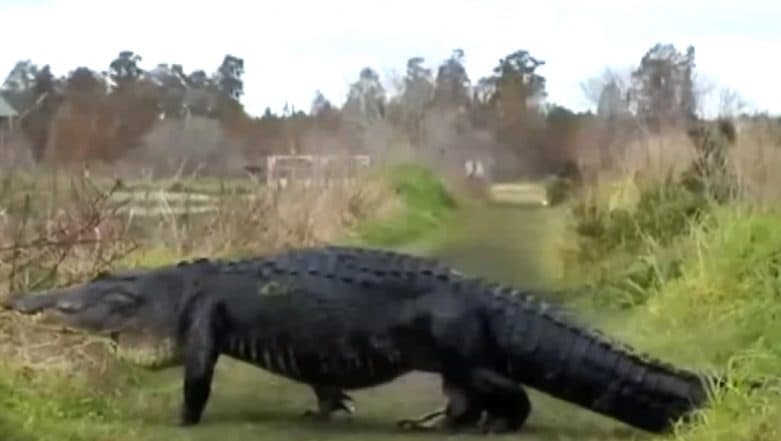 The year 2019 has started with a big croc display at Lakeland in Florida and by now, is all over the internet. A massive alligator was spotted at the Circle B Bar Reserve in Lakeland a year ago. Since then, the area which boasts of a wide variety of plants and animals always has people looking out for the big alligator. The Circle B Bar Reserve is known for its large alligators. The big alligators here are called the 'humpback' and the one that was spotted recently is named Fabio. Video of Fabio now have spread internationally, thanks to the internet. Graduation Snap Ideas! This Girl in Texas Had an Alligator to Pose With, See Viral Pics!
A few months ago, another video of a giant alligator in Florida named Chubbs was going viral. Chubbs, a 12-foot long alligator was seen strolling in a golf course. Massive alligators are commonly seen here, so Suzy Griffin Paul who visited the park over the weekend was not too surprised to have the massive reptile swimming around in the marsh. "This huge gator that they call Fabio swims right up and stops in front of us in the water and we realize he wants to cross the path. So we all back up away and give him space," Paul was quoted to a news report. Once they moved aside, the gator crossed their trail. Alligator In Swimming Pool! Video of 11-foot Reptile Emerging From Florida Pool Goes Viral.
Watch Video of Fabio Alligator Spotted in Florida Reserve
Isn't it really huge? It must have been scary to have such close encounters with these humpback alligators. It was Suzy Paul's first encounter with a massive alligator so she was happy. Last year, a similar video of giant alligator had gone viral. And once again, Fabio gets them back in news. When the alligator activities are on a rise, the area of the reserve is closed down, especially during the mating season.