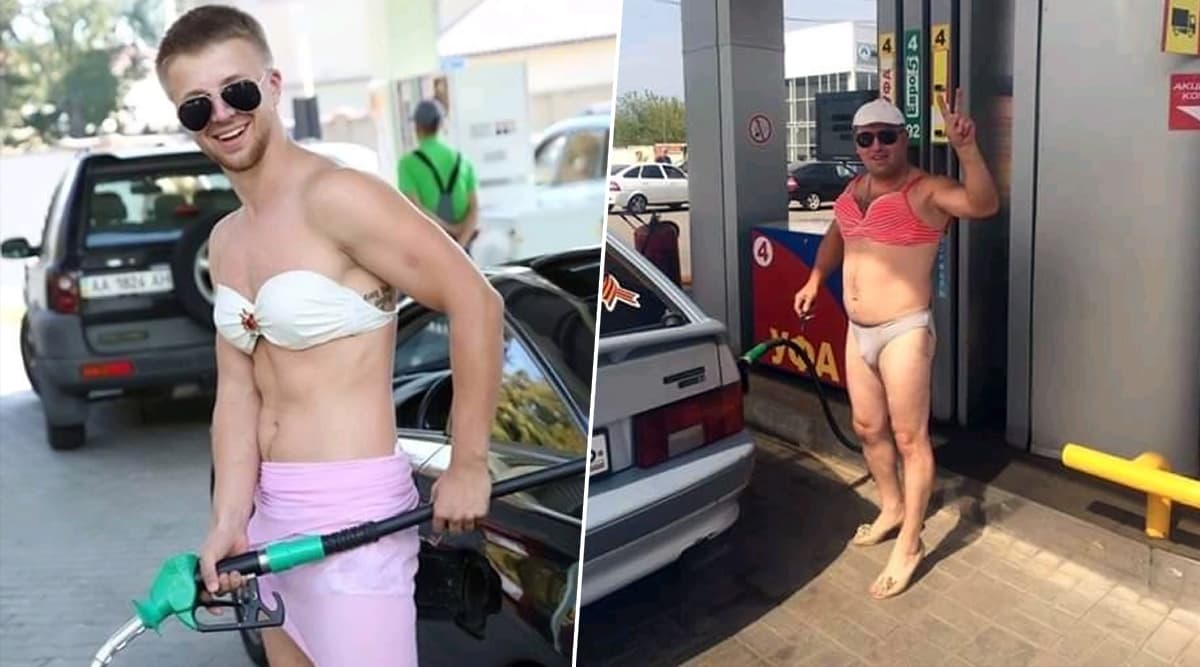 A Russian petrol pump took things a bit too quirky in their marketing strategy recently. Olvi gas station in Samara offered free fuel to anyone who dressed up in a bikini. And guess what, men did line up wearing two-pieces. Marketing is a tricky field and experts have to come up with something really unique to sell their products and services. We have thus seen many unique marketing strategies that have been used by companies before and now more so, in the time of social media. Maybe the Russian petrol pump decided to expose a bit while they garnered publicity. Pictures of men dressed in bikinis have been shared on social media. Russian School Teachers Wear Bikini to Support Fellow Teacher Fired For Posting Swimsuit Picture on Social Media (View Pics).
The condition was anyone who wore a bikini would get free fuel. If the company expected women to take up the campaign in stride and come in sexy bikinis, we are sure they may not have been completely let down by the men too. Pictures of men dressed up and enthusiastically filling on the free fuel have been shared on Twitter. Quite a few men dared to bare their bodies (not the bikini bodies, for sure) to not miss this opportunity. For a while, the hashtag #BikiniDress was also trending on Twitter related to this campaign. But not everyone was impressed with the desperate need for marketing. This Bikini with 'Hands' At The Right Places Grabs Your Boobs…Along With Everyone's Attention (View Pic).
View Pics of Men in Bikinis Waiting to Fill Free Fuel in Russia:
The gas station in Russia was offering free fueling for anyone who wears bikini, and this happens

Can you do this ?😂

Ifb pic.twitter.com/MTlZ3yP6Rs

— 17th_novemberrrrrrr (@RRoseRawlings) November 14, 2019
Some Men Wore Heels too!
— 17th_novemberrrrrrr (@RRoseRawlings) November 14, 2019
— 17th_novemberrrrrrr (@RRoseRawlings) November 14, 2019
One of the Twitter users who were a part of it said, "Me and the boys refuelling our government issued T-34s". "They had to come in a group, to get fuel for their tanks, with the Russian anthem playing in the backdrop". Although the offer lasted for three hours, the petrol pump did get some publicity, even if people criticised their move.