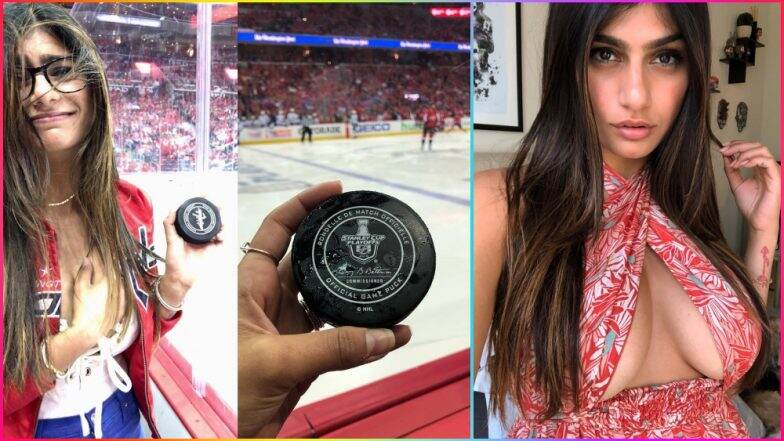 Stray hockey pucks are as dangerous as stray bullets! We're sure Mia Khalifa would advise everyone to beware of rogue playing discs based on her painful personal experience. Two months ago, the former porn star had gone to watch a game of ice hockey, and there she got hit by a hockey puck on her left breast. The 25-year-old had posted about the incident with pictures on Instagram stating to be sure about her boob implant being damaged. Well, she was right. The ex-adult actress turned sports commentator confirmed about having to undergo surgery for her 'deflated' breast implant. While her ordeal is painful, Mia is happy to keep the puck as a souvenir. Sunny Leone, Mia Khalifa to Johnny Sins; Tourist Buses with Painting of Porn Stars Are Burning the Streets of Kerala.
Mia who now works as a correspondent for sports podcast "Sportsball" was watching a Capitals playoff game in May when suddenly a six-ounce 170g puck struck her chest. It was travelling at a speed of around 130km/h. Ouch! The American-Lebanese social media personality in her note on Instagram had written, "Also, I got hit in the boob with a puck during the game, and I'm 80% sure it ruptured an implant. But the good news is, I got a game used puck from a Capitals Stanley cup playoff game. Worth it." In the collage of photos, one can see Mia holding her left breast in pain while another picture is that of the puck that smashed her chest!
Speaking to the Daily Star, Mia was quoted saying, "I was sitting behind the glass during a game, and it came shooting over the glass and it caught me so off guard and I had no idea it was coming. I grabbed my chest and I didn't want to let go, because I felt like if I did let go blood was going to be everywhere. I got to take it home, it was the single greatest souvenir any hockey fan can get: a game-used puck that comes at you and hits you."
The accident meant Mia who was once voted PornHub's most-watched actress during her stint in the adult entertainment industry to undergo the knife to fix her asset. She said, "They're really heavy, it's pure rubber, they go at about 80 mph (130km/h). My left breast is slightly deflated now and I will be getting it fixed next year." That should calm her 8.9million strong Instagram followers down. Because it would not be awesome to have Mia without her signature bosom.