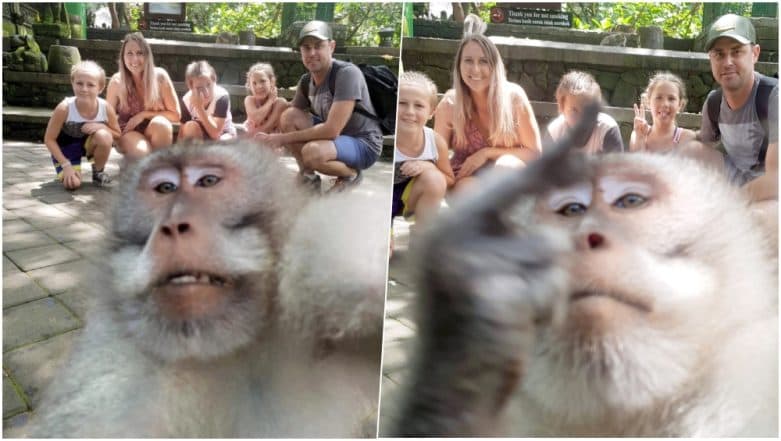 Monkeys are known to be goofy animals and especially around tourists, they get more goofier, always looking to steal their belongings. Monkeys can be quiet entertaining and a family on their recent trip in Bali's Ubud Monkey Forest can vouch for it, with a proof! While the family was holidaying they obviously were looking for making memories, probably get some pictures clicked with the monkeys too. But not did they just get a picture, it was a hilarious one as a monkey photobombed them and like a boss! The final picture shows the monkey pointing a middle finger in the photo. In A Hilarious Video From Chinese Zoo Monkey Snatches Tourist's Wallet & Throws Away All the Money.
A family from Australia was visiting Bali and decided to make a trip to the Ubud Monkey Forest. While they were exploring around, they asked a local guide to click their pictures. While they later scrolled through the pictures, they came across the hilarious picture with a monkey appearing to make a rude gesture. Talking about the picture Judy, the mother was quoted to The Daily Mail, "While we were there, a guide offered to take our photo. But as he did, a monkey suddenly came in front of the camera. The guide had peanuts in his hand and then began feeding him. It was really funny. As I was flicking through the photos afterwards, I noticed that in one of them the monkey was actually giving us the finger." Karma Strikes! Man Makes Fun of Monkey's Penis, The Chimp Pees on Him Through The Car Window (Watch Hilarious Video).
Check Video of Monkey Photobombing a Family Pic and Showing a Middle Finger:
Well, what can we say? Perfect timing? It is sure a hilarious picture and has been widely shared online. The family agreed that these funny pictures made it an even better trip for them.