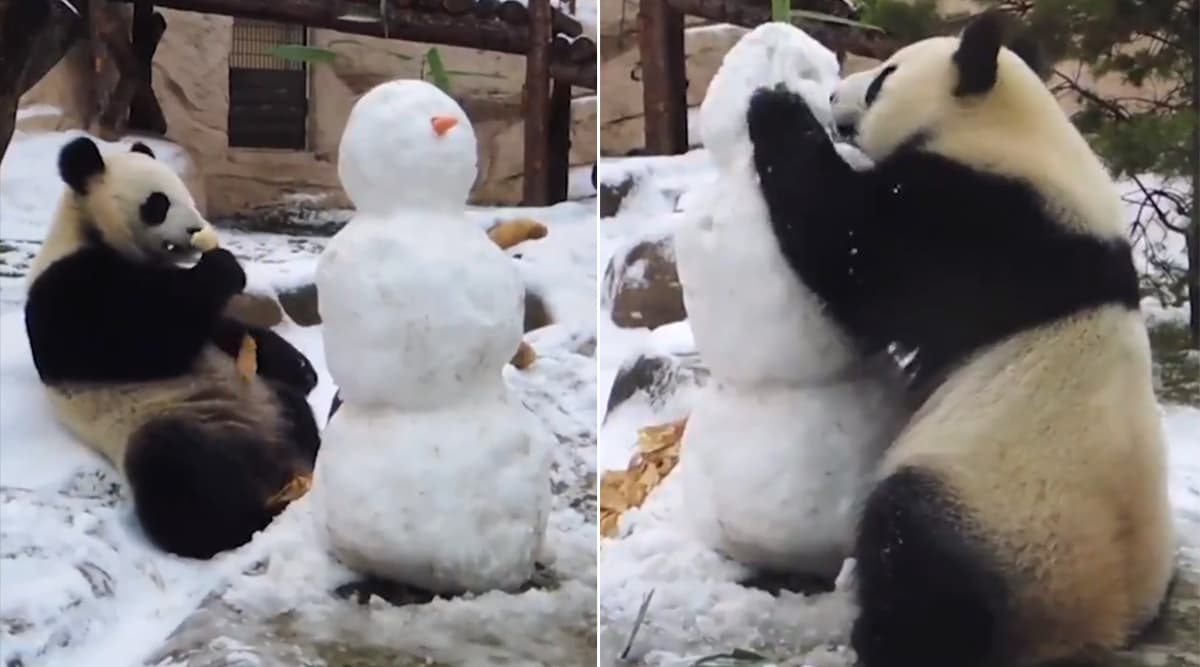 Do you want to build a snowman? You must keep it away from Moscow Zoo's beloved panda, Dindin. Why? Because the animal seems to love snacking on it. An adorable video is going viral on social media with Dindin delightfully eating the arms and nose of a snowman in her enclosure. The clip shows the 2-year-old bear enjoying a meal of bamboo and carrot and playfully examining the snowman. The zoo workers had built the snowman in her enclosure, hoping that the panda will love her new companion. But it seems that she decides it to be a tasty snack. 18 Panda Cubs Ring in First Birthday Together With Cake And Songs at China Conservation Centre. 
Over the years, pandas and snowman wrestling and playing footages have surfaced online giving people some heart-warmingly loving moments. Watching the pandas engaged in any activity, even when they are just lazy, is delightful to the naked eyes. It seems to take all your tension away, at least for a few minutes. And the recent clip is no less! The panda adorably engaged in her own world, as she feeds on the snowman is amusing and heart-warming at the same time. She examines, eats the snowman's arms and nose, before knocking the head off her new friend. Giant Panda Bei Bei From US Arrives At His New Home in China. 
Watch the Viral Video:
A panda named Dindin encountered a snowman built by zoo workers in her enclosure—and decided to feast on its bamboo arms and carrot nose! https://t.co/jKbDlrZkYO pic.twitter.com/XCWs6rJ9oA

— ABC News (@ABC) December 15, 2019
Did you like it? Such delightful sights are rare. We are so thankful to the Moscow Zoo for sharing this adorable moment of their resident panda, Dindin. It just took our blues away for a moment. At the time of writing this, the clip garnered over 50K views, and the number will surely increase every hour.