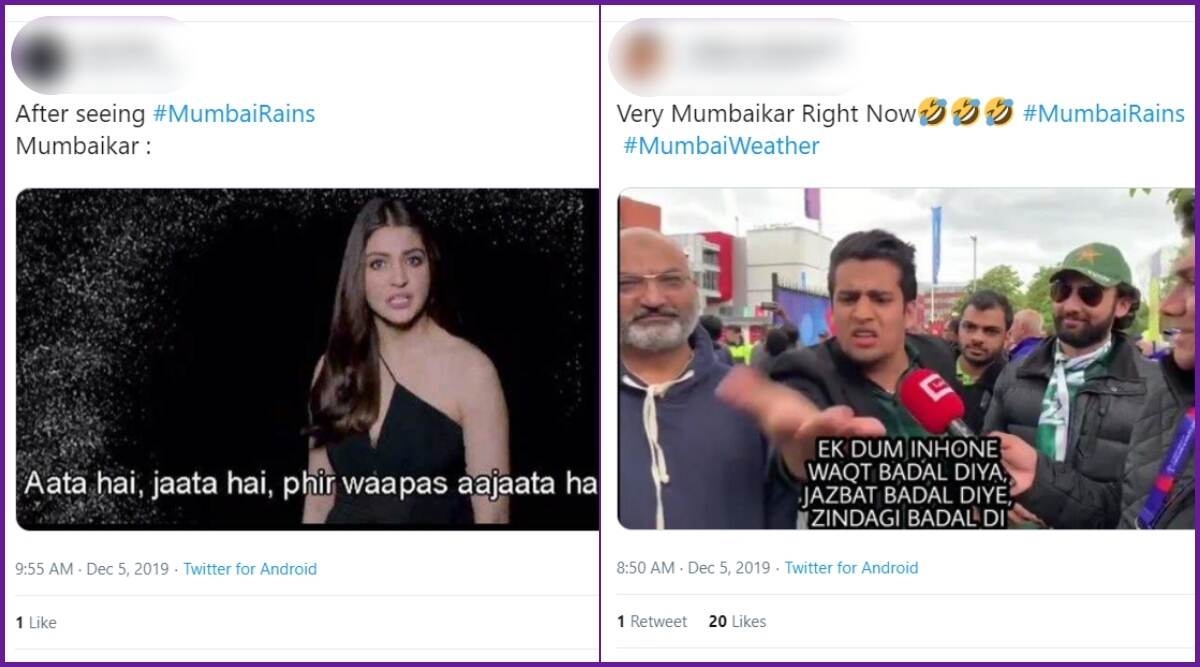 Mumbaikars woke up to a rainy morning today. It's the month of December and everyone in Mumbai awaits the winters. Although the metropolitan sees very few cold days compared to other parts, every Mumbaikar awaits the winters. But this morning, parts of the city received mild rainfall and people are really not happy with this weather change. According to the Indian Meteorological Department (IMD), the unseasonal rains are due to a deep depression that lies over the Arabian Sea. Hence, unseasonal rains were reported from parts of Thane, Dadar, Kalyan, Mulund and several other areas. Soon, people took to Twitter to express their disappointment, some talking about climate change, other making funny memes on winters. #MumbaiRains has started trending on Twitter. Mumbai Rains Starts Trending on Twitter as City Experiences Drizzling and Thundering in Some Parts, Check Funny Tweets on November Rain.
This year unseasonal rain has created havoc in parts of Maharashtra. The city of Mumbai had experienced rainfall in October and November too. This time, the monsoons were delayed in arrival and thus the rainy season was prolonged to October. With December, people are awaiting the winters and colder temperatures, but the city is still sweating. In fact, the IMD stated that Mumbai recorded the highest temperature this year in December compared to the last two years. With a little rainfall this morning, people are not too pleased. Some have resorted to the best form of reactions - funny memes. As Mumbai Rains Cripple City Once Again, Netizens Make Funny Jokes and Memes to Brighten the Dull Mood (Check Funny Tweets).
Check Some Tweets on #MumbaiRains:
Winter Right Now...
Winter after seeing #MumbaiRains pic.twitter.com/uG5cTPCMar

— Krishna Mishra (@krishna8mishra) December 5, 2019
Mumbai and Mumbai Rains Are a Couple
The relationship between #Mumbai and #MumbaiRains this year... pic.twitter.com/EKnnd1TMaM

— Rᴏɴ Mᴇɴᴇᴢᴇs ★ ϟ ☾ (@therealmicron) December 5, 2019
Difficult Choice
Still trying to figure out am I supposed to buy a sweater or an umbrella?!

.

— Daya Sansare 🌻 (@DayaSansare) December 5, 2019
Mumbaikars Right Now
Mumbaikars right now #MumbaiRains pic.twitter.com/yhtVskbJ9P

— Memelogy (@Memelogy5) December 5, 2019
The Irritation
Very Mumbaikar Right Now🤣🤣🤣 #MumbaiRains #MumbaiWeather pic.twitter.com/nsM0wW3p5N

— ☠𝐁𝐡𝐚𝐫𝐚𝐭 𝐑𝐚𝐭𝐡𝐨𝐝☠ (@ImBharatRathod) December 5, 2019
Can we Have Snowfall too Now?
Rains in December! What Next, Snowfall?#MumbaiRains

— Bhavesh!!! (@BhaveshSharma49) December 5, 2019
Going Back in Time
Slept in December, woke up in August #MumbaiRains

— R (@ragini_ghuge) December 5, 2019
Kyu aata hai?
After seeing #MumbaiRains

Mumbaikar : pic.twitter.com/AF3TgywWF3

— John Wick (@johhn_wickk) December 5, 2019
When it's December and it's still raining.#MumbaiRains pic.twitter.com/bN8CJiwj0V

— WastedWorlds (@_InBalia_) December 5, 2019
Climate Change is Real!
If anyone needed any more proof of whether climate change is happening, visit Mumbai today. #DecemberRain #MumbaiRains #MumbaiWeather #Mumbai

— Janhavee Moole (@janhavee) December 5, 2019
Waking up to rain in December😲🌧 Global warming you're on a roll! #MumbaiRains

— Gypsy Soul 🌸 (@SubtleWomaniya) December 5, 2019
Some of them shared pictures of the wet roads and foggy weather expressing happiness. But the weather in the city has become unpredictable and it is not a good sign. If you too are irritated with the weather change, might as well enjoy these funny memes and jokes.