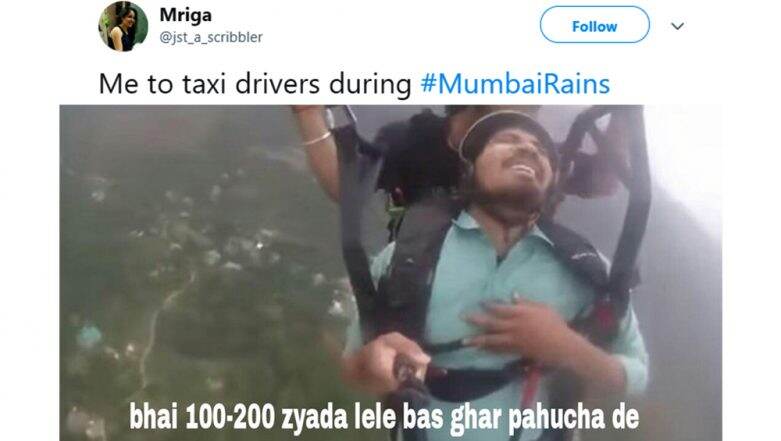 The financial capital of India, Mumbai is lashed by a heavy spell of rains since Tuesday night. Parts of the city are submerged with waterlogging, also affecting the suburban train services. Railway tracks are underwater and there is traffic on the road. While a majority of people are facing convenience and tired of the heavy rains, some of the netizens are making funny memes and jokes to brighten the dull weather everywhere. Many are also enjoying staying in the house and posting pictures and videos of the rain situation from their areas. So while #MumbaiRains is among the top trends on Twitter in India, there are some funny jokes and memes on Mumbai monsoon that are too funny to be missed out on. Mumbai Rains Live News Updates, Traffic And Local Train Status Today, September 4, 2019.
Following the heavy rains and waterlogging, the Brihanmumbai Municipal Corporation (BMC) also asked schools to remain closed for a day. The India Meteorological Department (IMD) has issued an "Orange alert" for Mumbai and Thane regions. Trains on all the routes- Central, Harbour and Western are delayed. But amongst all of this, a little humour always lightens the situation. So some netizens are quick to find some jokes based on moments like surging Uber prices, waterlogged roads, traffic and also the time of Ganeshotsav. Check some of the funny memes and jokes made on Mumbai rains. Mumbai Rains: From Barso Re Megha to Arey Re Arey, Bollywood Songs that Depict Every Monsoon Mood of Mumbaikars.
Check Funny Mumbai Rains Tweets Here:
Visarjan on the road!
If this rain goes for a week like this we can immerse Ganpati on roads. #MumbaiRains

— keshsinha_ (@meme_pirate99) September 3, 2019
Here's the problem
Mumbaikar's thoughts every year#MumbaiRains pic.twitter.com/psjVV1WqpT

— Sachin (Not Tendulkar) (@sachyavathan) September 4, 2019
Why Uber, why?
Me - Fuck it's pouring real bad and it would be really great if I could find a Uber to drop me home at a reasonable fees.

Looking at the high fares and water logging on roads #MumbaiRains #MumbaiRainsLive

Every mumbaikar: pic.twitter.com/c9lRiFJHs8

— PRACHI (@MohantoShibani) September 4, 2019

Uber Go prices - #MumbaiRains pic.twitter.com/4UpQuRIBFB

— Piyush Jain (@PJ_CRACKER) September 4, 2019
Paragliding memes continue
Me to taxi drivers during #MumbaiRains pic.twitter.com/Vo3mHtXxpZ

— Mriga (@jst_a_scribbler) September 4, 2019
Mumbaikars Right Now
How Do we go to office this way man?

Boss is so Ruthless 😩😡 pic.twitter.com/7vRNHRxKni

— Ishika Kapadia🇮🇳 (@ishikakapadia) September 4, 2019
Mumbai is rightly called the city that never sleeps, and so if you are on the way to work in these heavy rains you can totally relate to these. So if you are irritated by the damp and dull weather, we hope these jokes lighten your mood. Although we too would advise everyone to stay indoors in these heavy rains. Hope you have a safe journey!