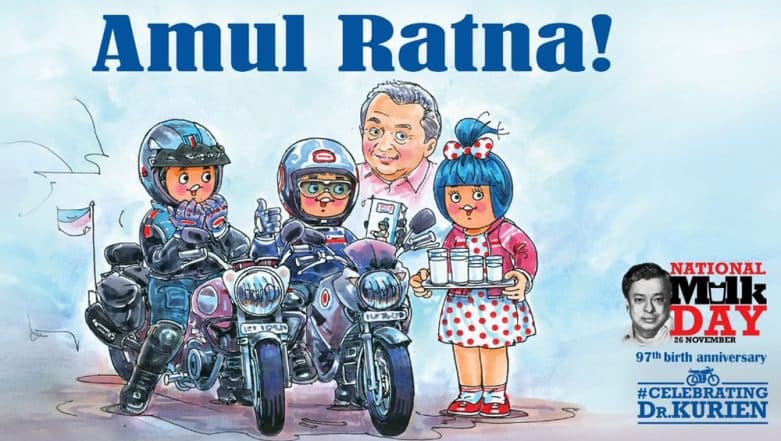 India celebrates National Milk Day on November 26 commemorating the contribution of Dr Verghese Kurien towards Milk Revolution in the country. Paying tributes to the great mind's thought that gave birth to Operation Flood, which is the world's largest dairy development programmer, Amul has dedicated a doodle to Kurien on his 97th birth anniversary. The doodle shows Kurien in the background as the Amul girl, their mascot offers milk to bikers.
The bikers depict the rally which began from Jammu on November 17 and covered various dairy farms village cooperative societies before entering Gujarat. They covered Himmatnagar, Udaipur, Sabar Dairy in Himmatnagar, Panchmahal Dairy in Godhra, Surendranagar and various other places. Amul tweeted the doodle with the caption 'Celebrating the legacy of the Milkman of India!' with the words 'Amul Ratna!' in the caricature. National Milk Day 2018: Everything You Want to Know About Dr Verghese Kurian Aka Father of the White Revolution.
Here is Amul's doodle on National Milk Day honouring Verghese Kurien's efforts towards Milk revolution in India:
Celebrating the legacy of the Milkman of India!#NationalMilkDay #CelebratingDrKurien #Kurien #Amul pic.twitter.com/iqxO3Q49KB

— Amul.coop (@Amul_Coop) November 25, 2018
After completing his education in America, Kurien returned to Anand in Gujarat and worked at the dairy division. Kurien's Operation Flood launched in 1970 connected 700 towns and cities in India by the National Milk Grid. This programme helped connect milk producers and consumers also helping farmers. He lived in Anand for the rest of his life monitoring and working towards the betterment of the milk revolution.
He passed away at the age of 90 following an illness on September 9, 2012. The mascot of Amul and their tagline 'Utterly Butterly Delicious' is one of the most recognised brands in the country. Their doodles on topics of national interest are much loved among people.