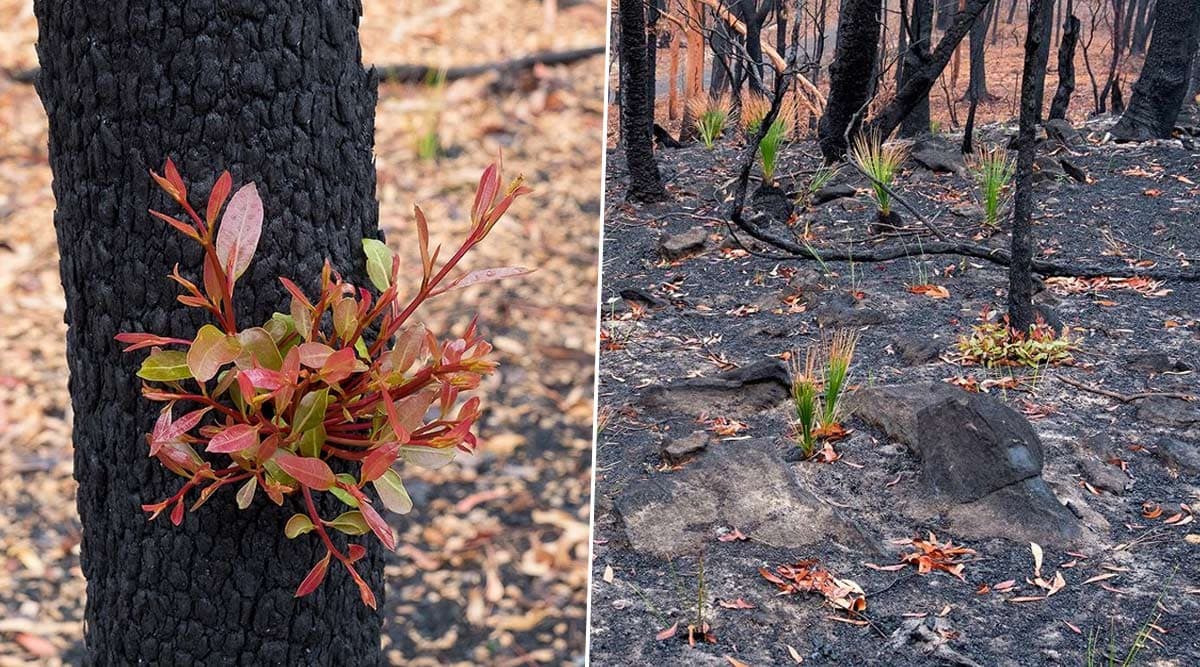 Amid the month-long massive bushfire, which is being called the worst one seen in decades a wave of hope has taken over the internet. Pictures of new bush regrowing on the NSW Central Coast has taken over the internet and they are indeed mesmerising. The pictures are giving away cheers to the netizens. Australia was in shambles after countless animals and a huge chunk of flora and fauna was lost due to raging bushfire. About 24 people have died nationwide, and in the state of New South Wales (NSW) alone, more than 2,000 homes have been destroyed, as per reports. Firefighters including firefighting assistance from other countries like the United States were not able to contain the blazing havoc.   Video of Firefighter Dancing to Lift the Spirits of His Team While Battling Australia Bushfire Goes Viral. 
Murray Lowe who clicked and shared these pictures online, expressed how happy she was after seeing the sight of Australia bushes rising from the ashes. She said, "Ventured out into the fire grounds today to capture some images of how the Aussie bush responds to fire, and the way it regenerates itself and comes back to life. Even without any rain, life bursts through the burnt bark from the heart of the trees and the life cycle begins again". "These images were captured in the Kulnura area on the Central Coast, and I'm happy for anyone to share this post. it's so heartening to see the Bush coming back to life again", she said for anyone who might want to have the picture for themselves.
View Pics:
"I think everyone is so happy to see your beautiful photos showing something positive after weeks of heartache- it gives us hope", someone commented. "Beautiful images of our incredible flora. Sadly the fauna takes much longer to recover. Up to twenty years for reptile populations to return to pre fire levels in some cases", another comment read.