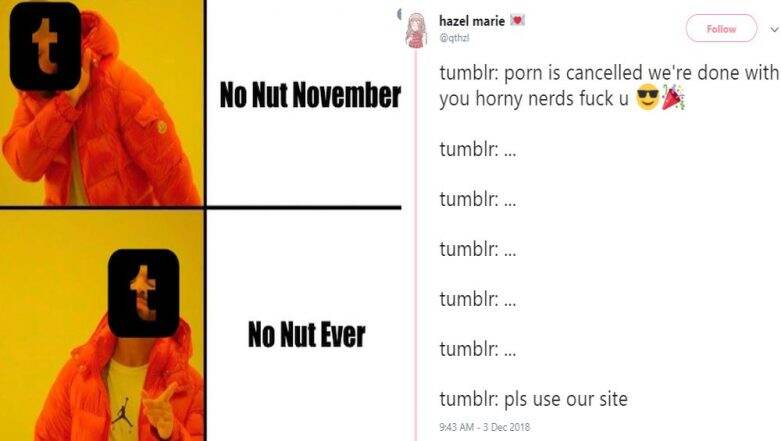 Social media is flooded with memes calling out Tumblr in the most hilarious ways. These are doing rounds on the internet because of the new policy announced just weeks. The announcement had is that Tumblr sites having explicit content will be sent notices. Their posts have been flagged, and the posts will be switched to a private mode. This is because the iOS app was temporarily pulled from the App Store for child pornography. The site accepted the NSFW content including porn earlier. However, from December 17th all the adult content will be removed from Tumblr. Child Porn Content Discovered on Tumblr! Blogging Platform Removed From Apple's App Store. 
Tumblr wrote in its new policy that "Adult content primarily includes photos, videos, or GIFs that show real-life human genitals or female-presenting nipples, and any content—including photos, videos, GIFs and illustrations—that depicts sex acts,"
Tumblr further said, "Written content such as erotica, nudity related to political or newsworthy speech, and nudity found in art, such as sculptures and illustrations, is also stuff that can be freely posted on Tumblr."
The website is known for its NSFW content, and therefore a lot of Tumblr-lovers are mad at the website for this decision. Here are a few memes about the Tumblr adult content ban that are going viral on the internet.
Do you agree?
Me logging onto tumblr pic.twitter.com/DAF5gOJjwJ

— Waffle 🍰✨ (@TheCaptainTeddy) December 3, 2018
Get it? Get it?
i have a present 4 u tumblr pic.twitter.com/PRMwiQEEoM

— adam koebel (@skinnyghost) December 3, 2018
ROFLing
Can't have enough #Tumblr memes lol. pic.twitter.com/EvNwCVU0h5

— Ehrenbändiger Raphi (@RaphiTheDon) December 3, 2018
Real thing!
People on Tumblr when adult content was allowed vs December 17th when Adult content is banned 😂😂 pic.twitter.com/MtFJzO1OTB

— Mesut (@Tvvittergod1) December 3, 2018
Getting damn real now!
Did a Tumblr meme pic.twitter.com/QbMLPp8Wvy

— Sydney Krampus-nek (@sydurbanek) December 3, 2018
What say?
Re: Tumblr, can you imagine being so bad at content moderation that literal child porn winds up on your platform and your response is, "Let's ban nipples!"

— Cora Harrington (@lingerie_addict) December 3, 2018
This is totally possible after the 17th of December.
tumblr: porn is cancelled we're done with you horny nerds fuck u 😎🎉

tumblr: ...

tumblr: ...

tumblr: ...

tumblr: ...

tumblr: ...

tumblr: pls use our site

— hazel marie 💌 (@qthzl) December 3, 2018
Some people are even asking Tumblr to reconsider their decision. What do you think about the announcement? Let us know in the comments section below.