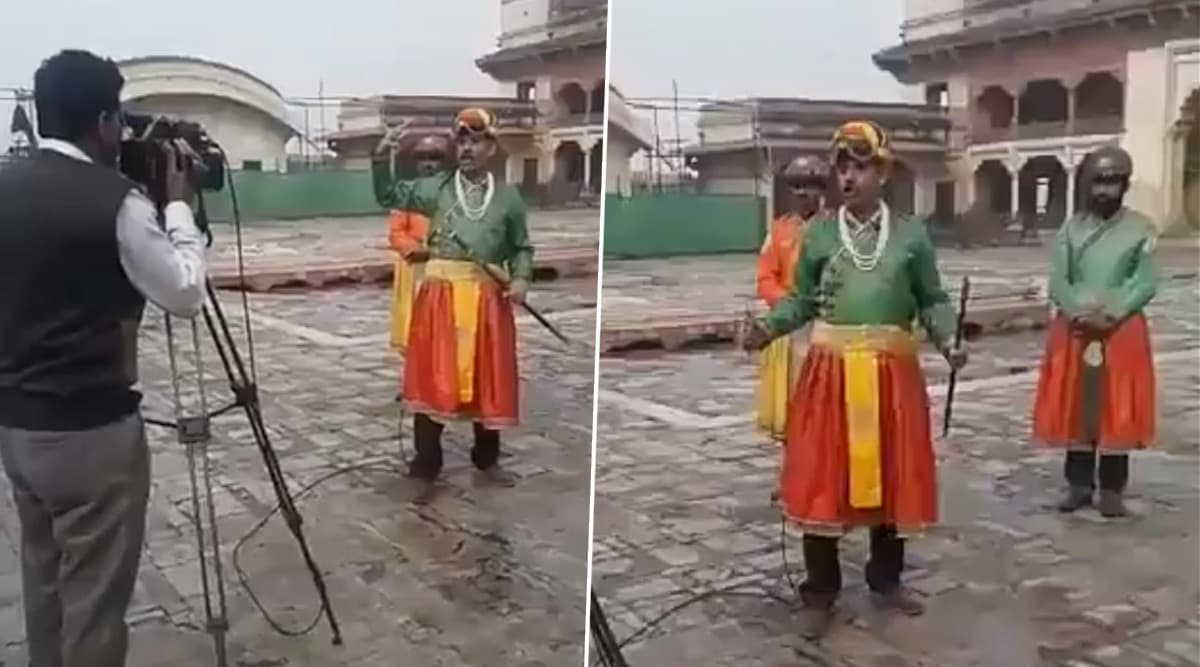 There is no perfect piece to the camera, then our beloved Chand Nawab. Pakistan's famous journalist, whose reporting skills have made him an internet sensation and even inspired a character in Kabir Khan's Bajrangi Bhaijan, essayed by Nawazuddin Siddique. But then in December, 2018, the internet was introduced to Amin Hafeez, who sat on a donkey and delivered his piece-to-camera (PTC). In no time, Hafeez made it to the headlines. People even compared him to Chand Nawab's antics. And now he made a grand come-back, to say the least. Dressed as an emperor, Hafeez can be seen brandishing a sword and reading the news before signing off, reportedly for Geo News, Lahore. The video has many reasons to make you laugh hard! Forget Chand Nawab, This Pakistani Reporter's Video of Falling off a Donkey While Reporting is Hilarious. 
A Pakistan journalist tweeted a behind the scene video that showed Hafeez, dressed in dark green emperor's dress, flaunting his sword and reading out the news. It appears that the video is shot at the roofing of a palace, with Hafeez asking who arranged a wedding at the historic spot. While the answer to the question remains uncertain, his royal avatar to the reporting is tickling the funny bones of social media. "#Pakistan Famous reporter amin hafeez in action #PTC," reads the caption of the video. New Chand Nawab in Making, This Pakistani Reporter Goes Overboard for Monsoon Coverage in This Hilarious Viral Video. 
Watch the BTS Video of Amin Hafeez:
#Pakistan Famous reporter amin hafeez in action #PTC pic.twitter.com/VJe7VQPJWA

— Ghulam Abbas Shah (@ghulamabbasshah) January 14, 2020
After the clip went viral, a follow-up video that appeared on television when it was broadcast. A Twitter user explained that Hafeez was reported on the 'Lahore fort on a marriage issue.'
Here's Video of the Broadcast:
Here is the final cut... as received from my friend Amin Hafeez himself. This is Cool 😎 https://t.co/WmNQItByQS pic.twitter.com/DAepMjiS0U

— Umashankar Singh उमाशंकर सिंह (@umashankarsingh) January 15, 2020
Twitterati Naturally Had Reactions to Offer!
— Punita Toraskar 🇮🇳⛳️ (@impuni) January 15, 2020
Deepak Chaurasiya of Pakistan?
Deepak Chaurasia of Pakistan 🤣🤣🤣 . ...

— Ateet Singh (@AteetSingh_) January 14, 2020
LOL!
This is how...Media Industry is going to beat Film Industry

(Amin hafeez is India's deepak chaurasiya) https://t.co/HToES1Ajhb

— Mukesh Bora (@mukeshbora4) January 15, 2020
Did you like the video? With this clip, one thing is certain that Hafeez has moved on. From interviewing cattle, then riding on a donkey and now to grander things! We wonder what Hafeez has in store for us in terms of live reporting next. It will surely be exciting and funny.