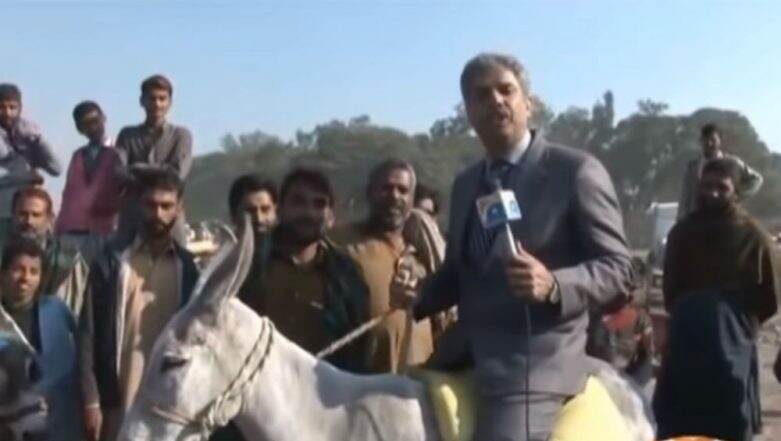 Move over Chand Nawab folks. There is a not so new reporter in town who can claim to be the funniest and most hilarious TV reporter out there. Pakistan's Amin Hafeez, who has more than made a name for himself for his eccentric reporting, this time sat on a donkey and delivered his piece-to-camera (PTC), while doing a report on the increasing population of donkeys in Pakistan's Lahore district and about a 'Donkey Hospital' opened there. Chand Nawab Is Back With A Hilarious Video! This Time Asking Teefa Kaun Hai?
The funniest part about his reporting is not that he just sat on the donkey, but he even managed to get a rather awkward jerk from the donkey the moment he praised the animal for its usefulness. Later, he fell off the donkey as soon as he finished his lines. New Chand Nawab in Making, This Pakistani Reporter Goes Overboard for Monsoon Coverage in This Hilarious Viral Video!
Watch the Video Below:
For those not in the know, Amin Hafeez has made a name for himself through his unique and often laugh inspiring style of reporting. Earlier, while reporting from a Cricket match queue from Pakistan, Hafeez started dancing and chanting with the supporters, who demanded that the prices of tickets be reduced.