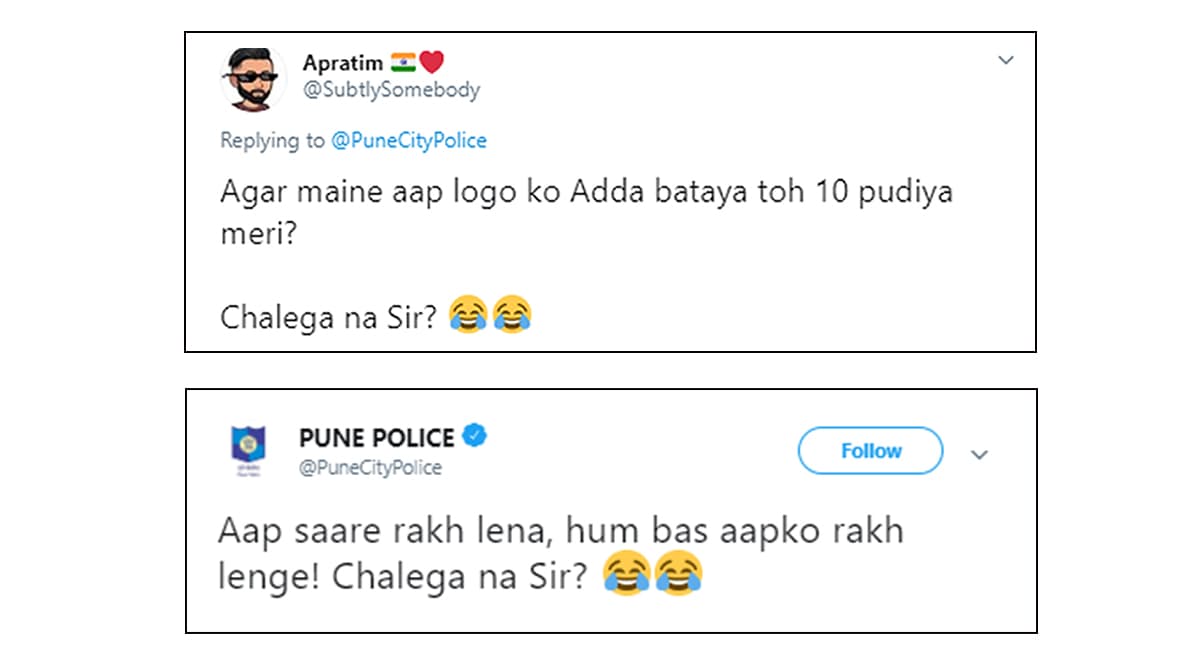 Pune, December 31: In a hilarious incident of bantering taking epic proportions on social media, the Pune Police won hearts and set Twitter on overdrive after an "epic" response to a rather silly query. However, what followed was a series of witty responses to questions which gives Pune Police Twitter account the bargain to claim the tag of "coolest" police handle anywhere. Twitterati was amazed to see this "cool" side of Pune Police, and several users thanked the Pune City Police for "rocking" the new year's eve. PM Narendra Modi Applauds Video 'Year 2020 SONG', Says 'Lovely Compilation' on Achievements Made in 2019.
It all started with a query from one of the users. A Twitter handle which goes by the username @_ThisGabriel tagged Pune Police and asked "Guys LSD is allowed". Pat came Pune Police's reply, "Tell us where to find it? 😉." After this reply, one of the users tweeted back asking Pune Police if he could get "pudiya" (dose) as a reward for information. This is when Pune Police struck gold with its reply. New Year's Eve 2019: More Liquor Licenses for Parties Issued This Year in Mumbai Compared to Last One, Says Maharashtra Excise Department.
Check Pune Police's Response in the Tweet Below
Aap saare rakh lena, hum bas aapko rakh lenge! Chalega na Sir? 😂😂 https://t.co/t7tjieGpdq

— PUNE POLICE (@PuneCityPolice) December 31, 2019
This was only the beginning of great things to come. Several Twitter users responded their own take on the issue. However, Pune Police  nailed them all. Memes were shared too.
Read Some Hilarious Exchanges and Memes Below
— Swami Sumirano (@Oshosumiran) December 31, 2019
Thug Life and Mic Drop
@PuneCityPolice Thug Life. pic.twitter.com/aYcPsMXDg0

— Zeeshan (@Zee_Siddiq) December 31, 2019
Even the One Who Was at the Receiving End Could Not Resist Praising Pune Police
Abhi, nahi... Hosh me aaunga toh vapas padhunga ye tweet😂😂😂

Abba ne harmonium baja diya😂

— Apratim 🇮🇳❤️ (@SubtlySomebody) December 31, 2019
The Pune Police has kept its "epic" response as pinned tweet on its Twitter handle. The tweet is only getting more likes and retweets with every passing hour. Many users appreciated Pune Police's sense of humour and appealed other police forces in the country to adopt the Pune Police style of functioning on Twitter when interacting with youngsters. Hope everyone is listening.