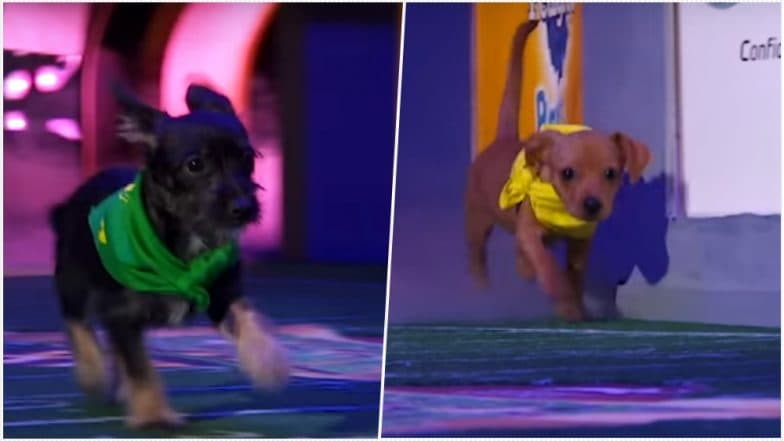 People are all gearing up to welcome the Super Bowl 2019, and they cannot wait anymore. Slated to be held on Sunday, February 3, the fifteenth annual contest has a lot to offer the audience. And the most awaited undoubtedly, is the contest of cuteness. We are talking about the Puppy Bowl! A total of 39 pups will face-off to determine which squads—namely Team Ruff and Team Fluff will win the title of canine champions on Sunday's American football game. It is undoubtedly the best sight to behold. Cardi B Features in Super Bowl Pepsi Ad With Her Signature Catchphrase 'Okurrr.'
Puppy Bowl XV will air on Animal Planet on February 3, 2019. The two-hour special will start at 3:00 pm Eastern Time (1:30 am IST), before the Super Bowl LIII which is scheduled for 6:30 pm ET (5:00 am IST). You can squeeze both the games into your TV viewing the schedule. Super Bowl 2019 is fast approaching us, and the officials have recently released a short video that shows the cutest canines practising to steal America's hearts at the 15th annual Puppy Bowl. Animal Cruelty in Mumbai: Cases of Dogs Being Poisoned, Beaten to Death on the Rise in the City. 
Watch Sneak Peak of Puppy Bowl 2019
According to reports, the members of Team Ruff and Team Fluff has come from 50 different animal shelters in 20 states across the nation. They are all rescue pets. Besides, the Animal Planet has shared a list of shelters on its website referring that each of Puppy Bowl contestant came from. After the event, the pups get loving families. As per the past records, some of the dogs are adopted before the event, while a few are available on the game day.
The puppies are not the only star of the show. Shirly, the sloth, will also be seen at the big event. She will be cheered by her own fan club of adorable baby sloths. Again, each team has a different animal mascot. Team Ruff will be supported by three baby porcupines, while Team Fluff has a capybara in their support. There will also be a group of baby kangaroos cheering for the teams. The cat lovers will too be delighted as, during the halftime, a group of kittens will take the field. Are you ready to witness the cutest competition ever?