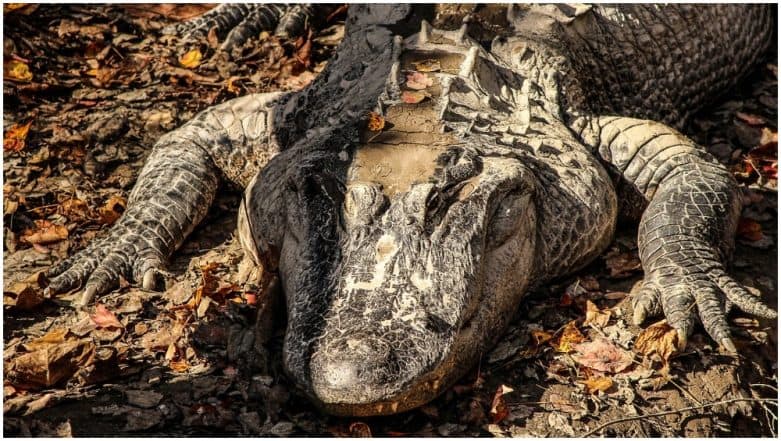 A group of hunters in the state of Georgia has made history by capturing an enormous alligator. The reptile weighs 700lbs and measures 14-feet and 1.74 inches in length. Derrick Snelson of Meriwether County said that he knew he had a big one on the line, but wasn't expecting something as long as this one. He was hunting on Lake Eufaula in the centre of the state, with his 14-year-old daughter, Shelby and professional hunters from Lethal Guide Service when they captured the crocodile. The previous record-beating alligator was 13-feet 10 inches long. The gator is not the heaviest alligator ever reported by a hunter, however, it will likely go down as one of the longest hunter-harvested gators. Massive Alligator 'Fabio' Spotted Strolling Across in Florida Reserve, Watch Video.
Derrick was quoted as saying, "We'll have it 'life-size' mounted. I guess I'll have to build a house around it. It's going to be a monster laying on the living room floor for a while!" Derrick added saying, "None of us knew he was that big until it was over. We just knew he had a nice-sized head on him. We started going toward him and he went under the water and stayed gone for 45 minutes before he surfaced right in front of us and went back under." Florida Man Returning From Night Shift Shocked to See an Alligator Welcoming Him! (View Viral Pic)
Watch The Video Below:
In Georgia, there is an alligator hunting season which begins in mid-August and continues through early October. Hunters have to get a special permit to try their luck in the waters and the bag limit is one. Getting hold of an alligator as big as this one was not an easy task. The tug of war went on for five hours. The alligator would come to the surface for around 10 seconds and dive back for 45 minutes every time they tried to get hold of it.