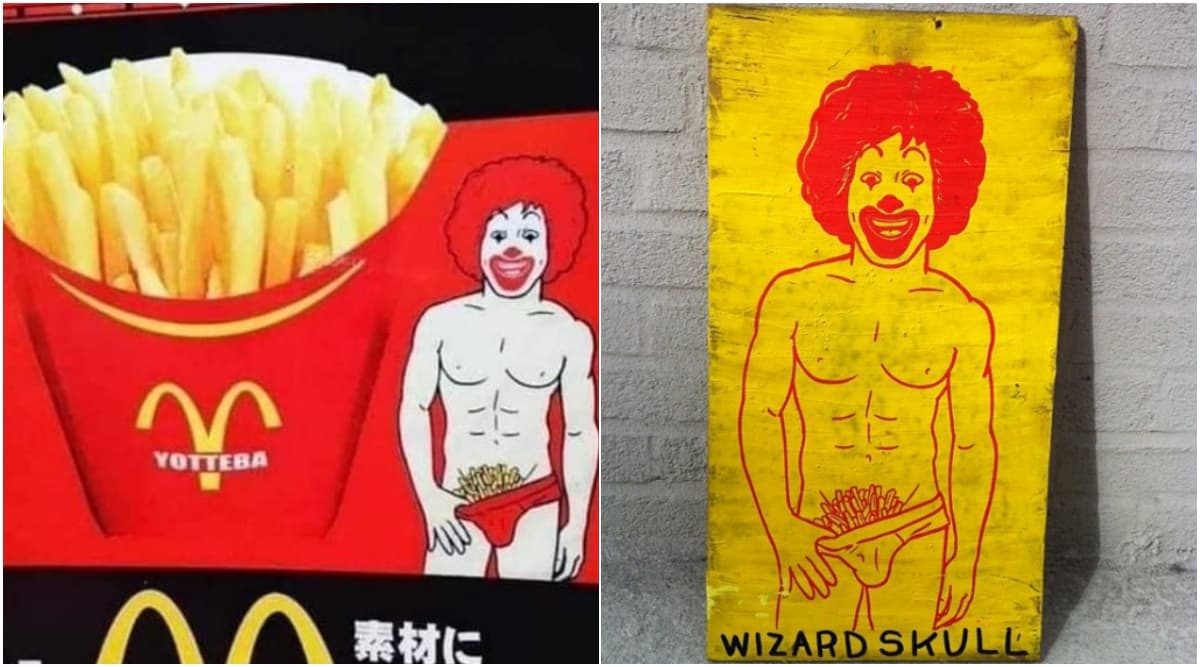 If you love McDonald's then you must be enjoying eating the fries in your meal too. Well, who doesn't love fries or even the mascot Ronald McDonald? Kids or elders alike love the clown character which has become the fast-food chain's identity. But in Japan, Ronald has gone raunchy. A Japanese food brand Yotteba has ripped off the popular fast-food chain for advertising their fries. They have given a raunchy makeover to the clown character, which shows him wearing only underwear and holding the fries in there! What's more? He is shown pulling them with one hand, the fries more like his pubic hair. Things are getting racy here, but as the ad came up on Twitter, netizens were shocked! Not used to seeing Ronald McDonald like this, people are not really lovin' it. McDonald's Customer Records Employees Gossiping on Drive-Thru Mic, Conversation Goes Viral on Twitter.
The artwork of Ronald McDonald is created by an artist from Brooklyn named Wizard Skull on Instagram. Yotteba is a smaller food chain in Japan, which sells inexpensive fast food and alcohol. While they are known for their innovative ads, this one's got its way online and has caught everyone's attention. In a way to make fun of McDonald's, they have used a rather raunchy side of the popular mascot. With six-pack abs, a thong, naughty smile and fries in his underpants, the ad has shocked people online. From Vampire Hosts to Sleeping With Beautiful Girls, Weird Café Experiences You'll Get in Japan.
Here Is the Ronald McDonald's Racy Avatar in Japan:
View this post on Instagram
People shared the same image on Twitter and Facebook and lovers of McDonald's were far from impressed.
Ronald getting down way different overseas. I had no idea... pic.twitter.com/OprFDy74kd

— M'BlockU (@rodimusprime) October 1, 2019
Eww!
— Kristi Stark (@krististark) October 1, 2019
What Have You Seen?
— Excelsior! Negress Furiousa (@siriusMOonlte) October 1, 2019
Halloween Ideas
I hope somebody dresses as "Sexy Ronald McDonald" this Halloween 👻 pic.twitter.com/FWnRiwAWeh

— Kris (@bigkrisradio) October 3, 2019
Hatin' It!
Thanks #Japan #McDonalds! I'm haten' it… pic.twitter.com/I7tU9TfsiV

— レイアン・エヴァンゲリスタ (@Rreizero) September 27, 2019
The ad has given nightmarish feels to many people online. Someone even commented, "McWhat The Hell?" This masterpiece artwork, however, has been created back in the year 2014. After Yotteba used it on their packaging of fries, it has come into notice all over. But we are not sure how this is going to affect the sales of McDonald's fries in the future.