On Saturday May 19, the most awaited royal wedding took place at Windsor Castle between Prince Harry and Meghan Markle, the new duke and duchess of Sussex. The royal wedding was a grand affair and for the ceremony, 600 fancy people were invited inside the St. George's Chapel, Windsor Castle. On top of that 1200 other people were invited to watch the whole thing go down outside of the chapel. These lucky guests celebrated the occasion by selling their royal wedding gift bags on eBay.
Those 1200 members of the public were given gift bags to commemorate the occasion. According to the Daily Mail, the bags were made of canvas and inscribed the royal couple's signatures. Prized contents included an order of service, large chocolate Harry and Meghan coin, fridge magnet for the wedding, map of the castle and where to go, bottle of water, special guest badge, discount card, Harry and Meghan wedding shortbread and finally the hessian bag itself.
Royal Wedding Gift Bid On eBay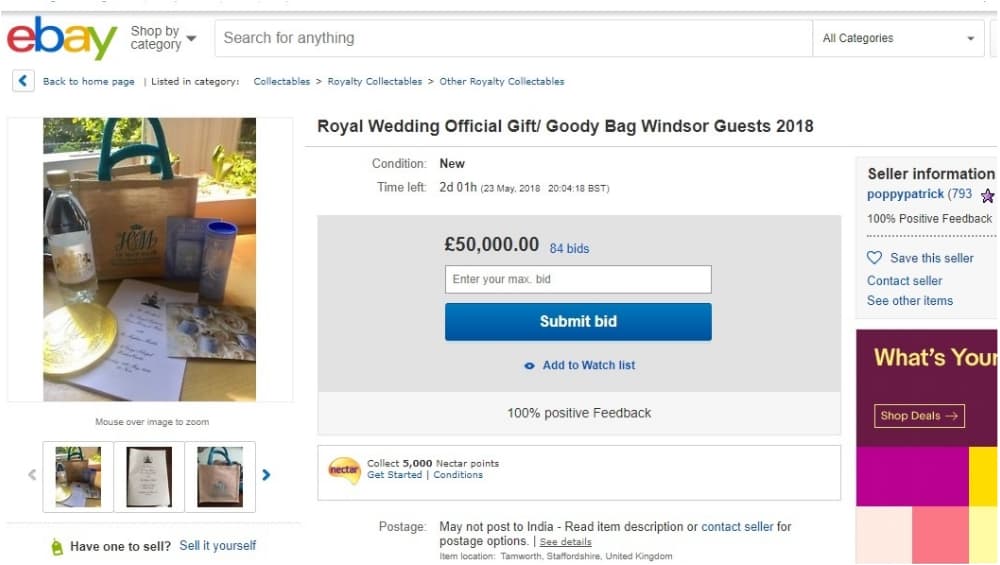 But within hours of the festivities ending, several of the goodie bags were being sold on eBay for a hefty price tag. The Daily Mail reported that at least 25 of the bags were listed for 25 to 40 pounds. One gist bag even apparently drew bidding of up to 1,000 pounds that is close to one lakh rupees. The seller which reached 1,000 pounds wrote, "they had received this wonderful gift bag for guests," and added, 'I forgot to mention all money raised will go to charity." The current bidding has gone up to 50,000 pounds that is a whopping 45 lakh rupees. Woah!
Another seller who had a bid of 458 pounds described it as a 'piece of history and Royal Wedding memorabilia given to celebrate a very special day." The lucky invitees were all 'community champions' who were deemed to have 'made their cities, towns and villages a better place to live.' Getting the best view of the royals and their guests arriving at St. George's Chapel, the volunteers were each gifted a goodie bad from Harry, 33 and Meghan, 36, as a thank you for their hard work.