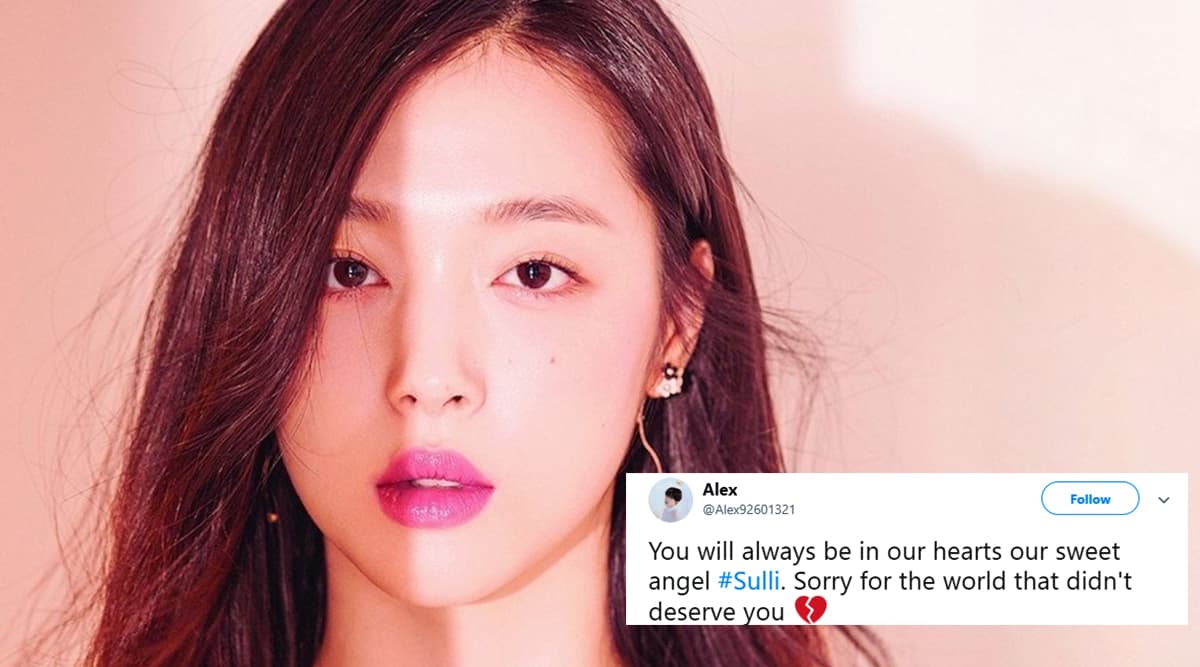 K-pop singer Sulli was found her dead at her home near Seoul, South Korea today. The 25-year-old was discovered by her manager in her home in Sujeong-gu, Seongnam in the Gyeonggi province. Sulli's manager reached her house when he could not contact her and unfortunately came across her dead body. There are speculations that the singer cum actor may have committed suicide out of depression, although there are no confirmations yet. Fans of the K-pop singer are devastated and expressing their shock over the news. Over a million tweets are already expressing tribute to the late singer making her the top trend on Twitter right now.
Sulli (real name Choi Jin-ri) had quit the K-pop industry in the year 2014. She was famous for her band f(x) but quit after receiving a lot of online abuse. The break was supposed to be for a year but she returned into the field of acting. She starred in films like Fashion King and I AM and was part of some TV shows like Hotel del Luna and To the Beautiful You. Soon the news of her death came up, fans have been devastated and sharing emotional messages for the loss. K-Pop Singer Seungri From Big Bang Quits After Allegations of Supplying Prostitutes in Nightclubs Go Viral, Check His Emotional Post.
Check Some Tweets Paying Tribute to Sulli:
Heaven Gained an Angel
We lost an amazing person today but heaven gained an angel👼🏻 We will miss you😢 You did amazing #Sulli you can now rest in peace! We will never forget you ❤️ and We will always remember you and love you no matter what. pic.twitter.com/79viqtVmvo

— bts_army_dutch (@btsarmydutch1) October 14, 2019
Rest in Peace
Rest In Peace, Sulli. Words really can't express how devastating and heartbreaking this is. She was an angel who deserved only love and happiness . My heart goes out to her family, friends, fans.

Everyone, stay safe and take care. Don't hesitate to ask for help if you need it. pic.twitter.com/uW9K4CZxem

— nct pics (@ot21pics) October 14, 2019
The Result of Words
I'm so sad about this. I don't know what should I say. She was so strong and talented...

I hope some people can understand the results of words. We are human.

Unfortunately being famous doesn't make them superhuman.

Please don't forget about this. #sulli pic.twitter.com/NoycTgwjJB

— sehun loops (@sehunloop) October 14, 2019
Smile Up Brighter
May you be able to smile brighter up there, Sulli

You will always have beautiful soul. Rest in peace, love! pic.twitter.com/zRAaeRnBce

— KHIPHOP PHILIPPINES🇵🇭🇰🇷 (@KHIPHOPPH) October 14, 2019
Feel Sorry For You
No.. You not a bad person 😭😭 We love you 💖 Hope now u not feel sick anymore. We feel sorry for you. For all who hate you. We feel so sorry 😭 Rest in peace ❤️#Sullipic.twitter.com/qrofaWb8yX

— 🧚‍♀️ (@jodohjaemin_) October 14, 2019
The World Doesn't Deserve You
Now you're free. No one can hurt you anymore. This world doesn't deserve you.

Love and peace.

19.10.14 Never forget #sulli pic.twitter.com/LJg5rsUWHh

— 릴리트 (@lilith_131) October 14, 2019
A lot of people have shared a video clip of Sulli in which she says that she is not a bad person. Earlier this year she surprised all her fans with her return to music with new single Goblin. Sulli had recently spoken about feeling alone and being hurt by some people. She had spoken about getting panic attacks and her social phobia. Her sudden death is said to be fuelled by all these depressing thoughts. Many fans are tweeting that the world didn't deserve her and she will be in a place with less hate and no pain now.