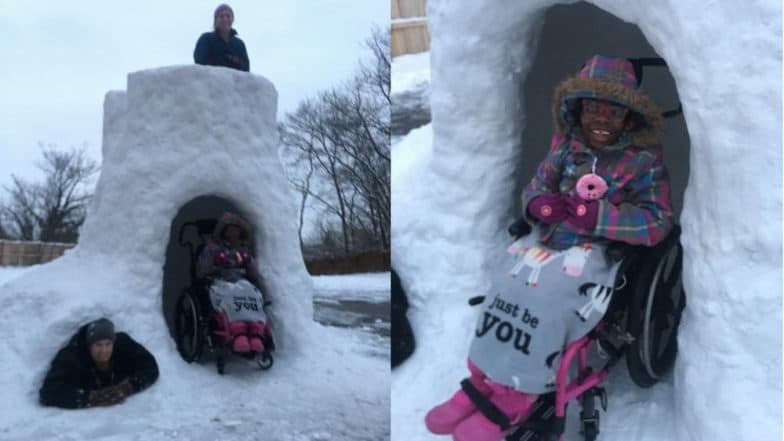 A father from Ohio in the United States is gaining praises on social media for building an igloo for his disabled daughter. Gregg Eichhorn's beautiful gesture towards his daughter has been termed as 'heart-warming' by netizens. Infact, people are telling each other to be like Gregg. The photo of Gregg and his daughter was shared on Reddit by his friend Daniel Thoms.
Sharing the pictures, he wrote, "My buddy Gregg built this handicap accessible snow fort for his daughter." While Gregg is overwhelmed by the attention his igloo is receiving, he insists that he is "not that special." However, within 24 hours, the post received over 70,000 upvotes with people calling him 'Best Dad'. Bride Dances With Her Dying Father on Her Wedding Day, The Viral Video Will Make You Cry.
BBC quoted Gregg as saying, "I just thought it was a cool snow fort. I enjoyed creating it with my other children." Gregg and his wife Katie have nine children; they have adopted eight kids and ninth in an adoption pending. The igloo was built for their oldest child, 19-year-old Zahara who uses a wheelchair. While his wife took the other children for sledging, the father made an igloo for Zahara. Gregg also said that it took four hours to build the ice house and that children helped him. He added that the children help each other in daily family activity.
A comment on the Reddit post reads: 'This is a special moment and very heartwarming. The amount of joy on her face is making me tear up" commented another.' Another says: 'Be like Gregg.' Another Reddit user said seeing this inspiring him to do something similar for his disabled sister.