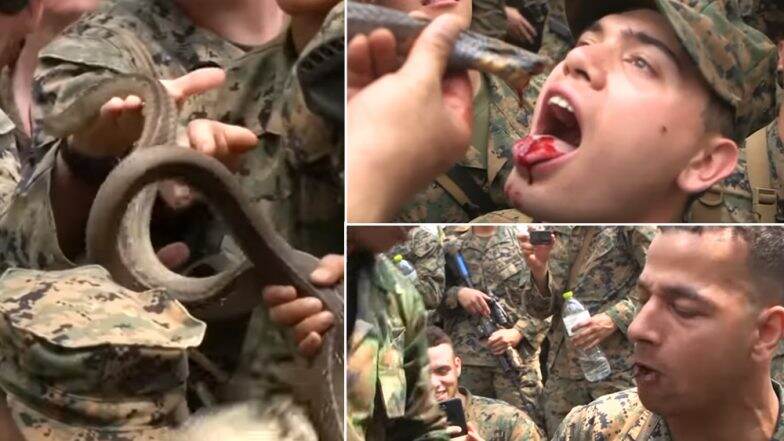 The Asia-Pacific military exercise known as the Cobra Gold has begun for the year. It is the largest multinational military exercise that is held in Thailand. It trains over thousands of forces through various intense drills to test the survival skills of these soldiers. In this year's survival War Games, the US troops were filmed drinking cobra blood. The entire training session that goes on for 11 days has exercises that go across land. There are air, sea and also a jungle survivalist session. During this session, the troops are also trained to snack on deadly insects like scorpions. A video of the US Marines drinking cobra blood during the jungle training session was released online. Scorpion Venom to Treat Arthritis? You Won't Believe These Crazy Medical Uses of Animal Venom.
It is an annual event which sees military personnel from Singapore, Japan, China, India, South Korea, Indonesia and Malaysia as well as the US being a part of it. There is a mix of both land and sea exercises along with a session on how to survive in the deepest of jungles with limited or no access to any food and water. In such extreme situations, the troops have to rely on what's available, be it insects or snakes. Cobra blood is said to have nutritional properties, so it can well replace water. Can Cobra Venom Get You High? Two Rajasthan Men's Addiction to Poison Becomes Curious Subject for Research.
Watch Video of US Marines Drinking Cobra Blood in Thai Jungles 
Isn't it scary? But that's a survival skill the troops have to learn. The troops titled their head backwards as the Marine Instructor dripped the blood from the snake into their throats. One of the marines who had been a part of the Cobra Gold exercise was quoted to the New York Post, "the blood had a distinct 'fishy flavor.' Drinking cobra blood has been a part of the exercise for many years now. Along with that, they are taught to eat spiders and scorpions without getting harmed by the poisonous ones. The Cobra Gold military exercise will end on February 22.