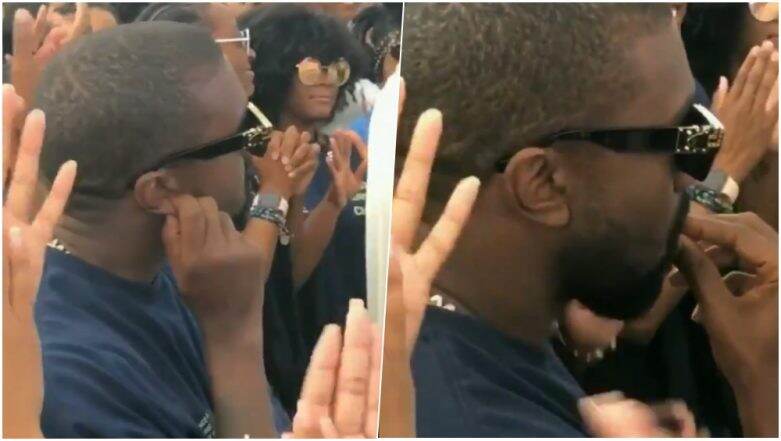 Kanye West doesn't really need any tactics to get a mass of viewers on his activities. The American rapper has been in the news after wife Kim Kardashian teased of his new album Jesus Is King, releasing next month. But more than that, a video taken from Sunday service over the weekend has confused the netizens. The caption states that West was chewing on his own earwax. Although in the video he does seem to be eating something after rubbing his earlobe, netizens cannot decide upon his actions. The video is going viral with over a million views, but what is Kanye West doing, the question still remains. Kanye West's Slippers at 2 Chainz Wedding Became Talk of Twitter, Check Funny Pictures and Tweets.
The video shows Kanye surrounded by people who are clapping and cheering. Suddenly it zooms into his head and Kanye is seen digging something off the lower part of his right earlobe. He then puts the same finger in his mouth! Twitter user @j0rgecastr0 captioned the footage, "So I didn't even notice but I got a video of @kanyewest eating his earwax." The video went viral over the weekend, which each one trying to interpret what is Kanye really doing? Some pointed out he could be eating chewing gum. Kanye West Accidentally Reveals His iPhone Passcode & Twitterati Can't Help but Create Funny Memes.
Watch The Viral Video of Kanye West:
So I didn't even notice but I got a video of @kanyewest eating his earwax 😂 pic.twitter.com/LZyungkpDJ

— dad bod (@j0rgecastr0) September 1, 2019
The video has crossed more than 3 million views and close to 26,000 retweets. Everyone is trying to understand what is Kanye doing. Check some of the interpretations by the Twitterati.
Can't be wax!
Ear lobes don't have ear wax tho

— Kristi (@Kristi_Tx) September 1, 2019
It's gum
He clearly took something out of his mouth probably his gum.

— 无条件的爱 (@jackienaav11) September 2, 2019
Lol that's a piece of gum, i also do keep a piece of gum behind me ear whenever i take a drink or eat something.

— Rip Van Fucking Winkle (@Edouard224) September 2, 2019
Not a gold digger
I ain't sayin' he a gold digger

— ashleyygonzalez (@ashleyzalez) September 2, 2019
Grossed out
— Just Kiss Already! (@JessTraxler) September 2, 2019
— JJ$lims (@Bugginfordayz) September 2, 2019
Punning begins
More like KanyEEW

— JOSHPINT (@JOSHPINT_) September 3, 2019
Meanwhile, the question still remains about what exactly was Kanye chewing on. Also, it is quite common for some people to hide their gum behind the ear, like a safe spot! As some people also commented that it is chewing gum which he probably hid behind. Gum or not, or definitely not earwax, Twitterati is grossed out by the footage.