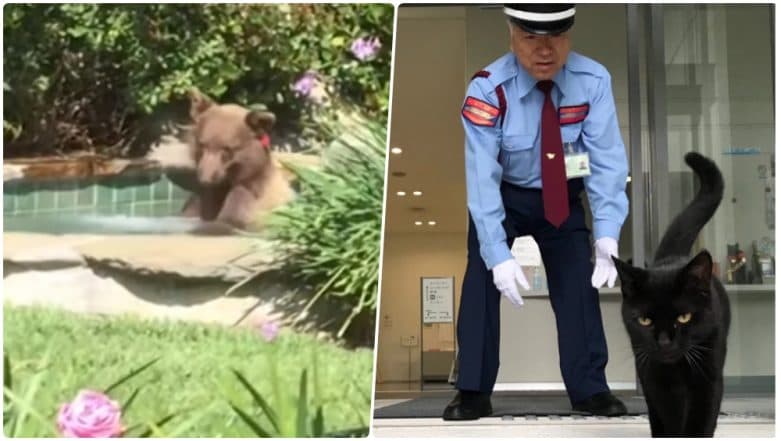 The end of the year is very near, and we are sure for not being the only one who feels that 2018 has just fast-paced us. All the festivals are over, and we are now busy noting down our list of resolutions to take on New Year. As 2018 is coming to an end, let us go back and give credits to some remarkable developments that happened this year. It has been a total roller coaster. Where #MeToo have united people globally against the perpetrators, incidents of natural disasters and other societal development have surfaced the internet reminding that humanity does exist. Not to mention, it was a jam-packed year of viral videos. This 2018 was also a year filled with heartwarming animal stories. She's The Boss! As 2018 Ends, Here's A Look at World Women Leaders Who Inspire Us. 
A margarita-loving bear, a caring Labrador who adopted nine ducklings and stubborn cats who just want to get inside the museum—it has been an excellent year for the animal kingdom. It is time to look at the most popular videos that were circulating on the internet throughout the year captivating our netizens for hours. So, without any further ado, let us flashback the viral videos. New Year Resolutions And The Art of Keeping Them Alive: Tips to Stick to These Most Commonly Made And Broken Promises In 2019. 
Margarita-Loving Bear
In a Southern California community, a bear who was not able to tolerate the temperature decided to chill in a bubbling hot tub sipping margarita. Dubbed as the margarita-loving bear, in no time, it gave some major summer goals. The bear was next spotted taking a nap in an oak tree before it disappeared down the street. Its summer-chill time was loved by the netizens.
Louis, the Gorilla Who Walks Upright
Meet Louis - the gorilla who walks upright to avoid getting his hands - or food - dirty. 🦍🍅🍅 pic.twitter.com/tpZfzGhMc1

— BBC News (World) (@BBCWorld) March 22, 2018
Commonly, gorillas walk on all the fours, using their knuckles to help support their weight. But the 16-year-old western lowland gorilla has got some attitude and a "clean freak," too. He was just trying to keep his tomatoes intact and off the ground, the moment he was caught on camera, walking through his enclosure. Louis, who is a favourite at the Philadelphia Zoo, the shy ape got immense views and love for his tendency to walk upright and over long distances.
Modern Day Hachiko Xiong Xiong
Xiongxiong, a 15-year-old dog, is waiting outside the railway station every day for its master. (Source: Pearvideo) pic.twitter.com/XcOb0RKyyZ

— China Daily (@ChinaDaily) May 3, 2018
Chinese social media has fallen hard earlier this year for a loyal elderly dog, Xiongxiong who waits patiently outside a station every day for his owner to come home from work. The video which was filmed in the major south-western city of Chongqing, the little bear racked up over 10 million views in just a few hours of its uploading online. He waits patiently for about 12 hours for his owner to arrive home. Some even dubbed it the modern day Hachiko, who became famous in Japan in the 1920s for meeting his master every day at a railway station. After his owner's death, he continued to make the journey for nine years.
Michael Jackson's Elephant
The king of pop Michael Jackson's elephant Ali tasted freedom as he quietly escaped his enclosure. The bull elephant at Neverland Ranch ended up wandering in a courtyard behind the giraffe and elephant barn after a gate was accidentally open. Although, it could not go very far, he enjoyed his time out of plot for 20 minutes.
Golden Labrador Fred Who Adopted Nine Orphan Ducklings
Dog 'adopts' nine orphaned ducklings at Essex castle https://t.co/7JQ7C87lHW pic.twitter.com/YPiPueBu4Y

— BBC Essex (@BBCEssex) May 21, 2018
This golden Labrador Fred became a dad to nine little ducklings at Mountfitchet Castle near Stansted Essex, United Kingdom. These cute ducklings were spotted wandering around lost near the battlements at the Castle in May this year. Staffs were worried when they discovered that the mother was found nowhere, but Fred was quick to take care of the young ones. Looking at the viral pictures, Twitter fell in love with this wonderful Happy Family.
Stubborn Cats of Japan, Ken-Chan & Goasaku
にらみ合いー突撃ー防御ー再突破ー捕獲ーお見送り。本日も近所の黒猫と警備の方の攻防がありました。特別展「招き猫亭コレクションー猫まみれ」なので入館を許可したいところですが、作品保全のため、丁重にお帰りいただきました。展覧会HPはコチラ:https://t.co/LJMNYF9Vog pic.twitter.com/11m7mWVr3I

— 尾道市立美術館 (@bijutsu1) March 22, 2017
Last month, two stubborn cats Ken-Chan and Goasaku who have been trying to get into a museum in Japan for two years went viral for their non-stop attempts. The videos and photos of the cats' denial to get an entry to the Hiroshima Onomichi City Museum are all over the internet. They still wait to be officially invited into the museum, until then, the struggle continues!
Hawaii Seal Gets Eel Stuck up Nose
Eel-in-nose incident was vastly shared by the social media users late this year. Where the researchers claim this incident to be very common, observing the phenomenon three to four times in the past. Why, it happens, however, remains a mystery, but the netizens surely had their share of fun.
These are a few who went extremely viral this year and yes there are a lot of other animals who with their cute or stubbornness have captivated the netizens throughout. And we so hope of more of such adorable moments in 2019 too.