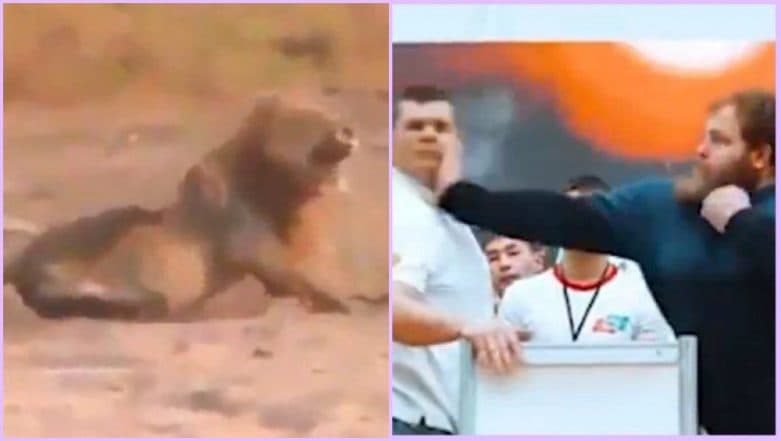 It is that time again; we are here to look back at the videos which were everywhere on social media platforms. The short clips never fail to amaze us with their different appearances at different times. While some of them are funny, others are equally heart-touching sharing thoughtful messages across. Nevertheless, all of them continued to capture the netizens throughout the tiring week and not disappointing them like most of the times. So, before you start with your weekend craze, pause yourself to give credits to all the amazing viral videos that were all over Twitter, Facebook, Instagram and YouTube. From videos honouring New Zealand Terror Attack victims to cruel man hunting sleeping lion to Russia's recent Male Slapping Championship, find out this week's top 7 videos that went insanely viral. Pornstar Rookie Stray, a Transwoman Shows Off Her Huge Penis on Twitter, Wins the Internet With Her Girld**k. 
1. New Zealand Students Performing Traditional Haka Dance
On March 15, 2019, New Zealand city Christchurch saw a horrific mass shooting at two mosques claiming over 50 lives and left many injured. To honour the memory of these victims, students from different religious background gathered and performed traditional haka dance. The haka dance is a traditional Maori dance which symbolises strength and sense of community. Some of the students got teary-eyed while performing. The viral videos touched millions of hearts on the internet, with people uniting together in the wake of racial hatred.
2. Cruel Man Hunting Sleeping Lion
This 'hunter' sneaked up on a SLEEPING #Lion and killed it!

How brave, how sporting - HOW CUNTISH!!!

According to the @NatGeo

magazine, the Lion will have disappeared from the African continent in 2050!!!! RT if you want a GLOBAL ban on ALL #trophyhunting NOW!! @RickyGervais pic.twitter.com/F5qcOpE0ix

— PROTECT ALL WILDLIFE (@Protect_Wldlife) March 18, 2019
This sickening man killing a sleeping lion has led to social media outrage. The viral video showed him hunting the animal along with his companion who congratulated him for killing the animal at the first attempt. The horrible clip was widely shared on Twitter with people condemning the act.
3. 45 Rattlesnakes Resting Beneath Texas Home
A total of 45 both big and small rattlesnakes were resting under the house situated in Albany. The scary 18-minute long viral video capturing the entire process of snake catchers removing them one by one is surfaced all over the internet. Well, the officials also warned the citizens to be careful as such horrifying sights can be witnessed very often now. In Texas, as the weather warms up, snakes will begin to emerge from underneath the houses. Scary enough?
4. Iowa Police Officers Catch 3 Children Dropped from 3rd Floor of Burning Building
People all across social media, are all in praise for the brave police officers heroically catching all three kids who were dropped from a third storey window of a burning apartment at Des Moines. The viral clip from the scene shows all three brave officers—Cole Johnson, Craig Vasquez, Tyler Kelley and Casey Sanders helping the Des Moines firefighters. All the residents were evacuated from the building unharmed by the officers.
5. Texas Student Climbs Flagpole, Falls Off Immediately
SHE NEEDS SOME MILK pic.twitter.com/9EZgTS3Kp3

— keegan burkhardt (@keeegan99) March 17, 2019
Students in Texas gathered at South Padre Island to celebrate their spring break. But the celebrations went terribly wrong when a female student climbed up a metal pole in a bikini. The viral video shows her cheerfully pushing herself up the flagpole with her bare hands, and soon as she reached towards the tapering end of the pole it toppled over, and she fell. She reportedly escaped without any serious injuries. People on social media was not expecting the sudden fall.
6. Indian-American Girl Drinks Tequila Shots in Front of Parents
It was at this moment that my parents decided they were sending me back to India pic.twitter.com/MQ64wuYESO

— Misha Malik (@MishaMalik138) March 18, 2019
People who have grown up in a strict Indian household will relate to it so much. This Indian girl in Ohio, US was tried to have shots in front of her parents. What happened next? Well, she was immediately sent back to the home country. The viral clip has hilariously captured the desi Twitterati, and they cannot hold their laugh.
7. Russia's Male Slapping Championship
В Красноярске провели чемпионат по мужским пощечинам. Некоторые лупили соперников так, что те не могли удержаться на ногах. Победителем стал Василий Камоцкий, за тяжелую руку он получил 30 тысяч рублей. Щеку ему лучше не подставлять… pic.twitter.com/xdBNJCKrKf

— НТВ (@ntvru) March 19, 2019
This is the most hilarious and bizarre competition in the sports arena. You do not have to be physically fit or have any skill, just slap as hard as you can to your opponent and win the championship. The Male Slapping Championship took place in Siberia's Krasnoyarsk society with men gathered to slap, be slapped and watch others getting slapped. However, what amused the netizens was winner Vasily Kamotsky's reaction every time he gets slapped. It is a mere mosquito bite to him.
That's it for this week! Let us know which one was your favourite among the top seven clips. You can scroll up and watch them again, as they are sure to make your weekend more amazing. Meanwhile, we wait what the upcoming week has to unfold.