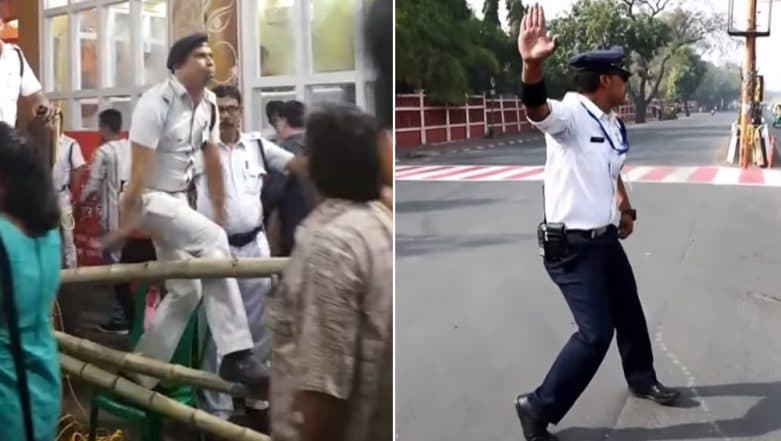 The traffic in India is quite notorious and managing it is a herculean task. Unfortunate to state, but people here do not really take the signals and road signs very seriously, making traffic an even bigger issue where it should not be. Every crossroad at least in the big cities is forever crowded with vehicles and not one but several traffic police officers have to take control of all the people and approaching vehicles. With long and long queues of cars lining up one after another, a traffic police is only stressful more so in the peak hours. But some traffic police officers have devised strategies to beat all their work stress. Traffic police officers at different locations have shown off their dancing skills to manage the traffic and also ease out the stress of the other commuters along their way.
The internet has several funny videos of traffic officers managing the traffic effectively and dancing along. One of the recent videos has come from a Durga Puja pandal in Kolkata. Durga Pujo is a big event in Kolkata which sees a massive turnout of people. It can be really difficult to control the movement of people. So this police officer resorted to a rather funny way of directing the people towards the pandal. Watch Video: Delhi Traffic Cop Risks His Life, Clings Onto SUV's Bonnet to Stop Man From Getting Past Police Check Post. 
Watch Video of Police Officer at Kolkata Durga Puja Pandal
The way in which this cop is just moving his hands to direct the crowds is comical. The video was shared on Facebook and has got over 5,97,000 views and 5,000 plus shares.
Traffic Cop With MJ Moves in Indore
A traffic cop named Ranjeet Singh, became an internet star thanks to his dance moves. In the middle of rush hour traffic, he can effortlessly pick up moonwalking like none other than Michael Jackson. His style of control has earned him enough fame and people just love the way he does his job. His endearing personality and lively spirit during his work is always winning appreciation.
Watch Video of Traffic Police Moonwalking in Indore
He is so effortless, right? His skills have been covered by several news channels in the past, making him a famous traffic cop in the country. Homeless Woman in Hyderabad Gets Shelter, Thanks to a Traffic Cop. 
Dancing Cop From Bhubaneshwar
A traffic police from Bhubaneshwar has also found respite in dance steps to control the traffic and giving them directions. Just to direct the people to move in a particular direction, he uses dance.
Watch Video of Dancing Traffic Cop From Bhubaneshwar
Looks like the people here are too used to this traffic cop's moves as they do not seem too amused. But it is indeed commendable how these traffic police officers have made their regular job way more interesting for not just them but even to others. Being stuck in traffic is not at all a pleasing feeling for anyone, but these cops made sure they keep people entertained while they were stuck.