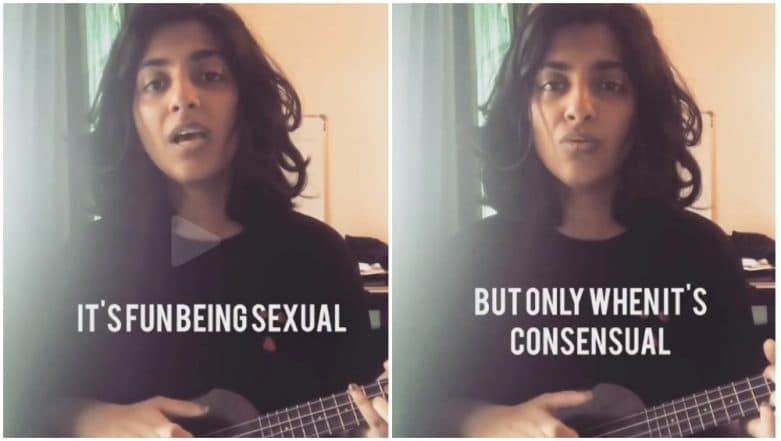 As #MeToo continues to bring out accusations against sexual predators, debates around the topic of consent has kickstarted again. With people coming up with various reasoning and explanations relating to consent, a Mumbai-based woman has composed a song with an important message on it. Sukhnidh Kaur, a legal aid counsellor, has described the term consent and how it is misinterpreted in various situations.
The lyrics explain the importance of consent and how it should not be misunderstood. The lyrics go, "It's fun being sexual, only when it's consexual. The Lines are blurred and grey, Boy you better learn to navigate." With talks of consent being mistaken for gestures and cues doing rounds, she also touches on how only an yes can be taken for an yes. Playing the ukulele, she sings, "Not a No, not a Maybe, boy you need a, yes, otherwise it won't be considered a yes." #MeToo in Bollywood: After Women Filmmakers Pledging to Not Support Proven Offenders, It's High Time The Men Boycott Them Too
Kaur shared the video on Instagram with the caption, "Here's a one-minute masterclass on consent because some don't seem to get it. This week has been traumatic with #MeToo and music is how I heal. Take this as a fun nursery rhyme as you will, as long as it teaches someone something. Lol. #metooindia #timesup #consent #musicwsukh #originalswsukh edit: thanks for all the love. I'm dedicating this one to MJ Akbar." Gursimran Khamba of AIB Accused of 'Sexual Harassment', Comedian Issues Apology But Claims He Didn't Violate Consent; Read Statements.
Watch the video here:
View this post on Instagram
As the #MeToo movement reached Indian shores, women took to social media naming and shaming their sexual harassers. Bollywood celebrities including actors, directors, singers and many others were called out by women on Twitter. Allegations were also levelled against popular comedians and journalists.