As WhatsApp is trying its best to curtail the spread of fake news on the social media platform, unauthorised messages continue to fly thick and fast. After messages claiming that the Narendra Modi government will be distributing free cycles to 'boys and girls' on August 15 went viral, newest ones say that they are also going to give away free helmets and scooters. The messages which are circulated on WhatsApp says that under 'Pradhan Mantri Sadak Suraksha Yojana' the government will also be distributing free helmets and free scooters under 'Helmet PM Yojana'.
The fake messages on free cycles also contained a note asking receivers to forward the message to more users. The message also had a link to a website (http://Bharat-Sarkar.com/साईकिल/) that directed users to fill a form and register themselves to avail free cycles. However, the site is currently down and reads: 'Future home of something quite cool'. Currently, a different domain name (http://bharat-sarkar.in/) is fooling users stating the government will be soon distributing free scooters.
The recent message in Hindi can be translated to read: 'Considering the rising number of road accidents, the central government has decided to distribute free helmets'. The helmets will be distributed in schools nearby you. It also gives link to a non-existant website (http://helmet.pm-yojna.in) Just like the previous fake message on 'free distribution of cycles' this WhatsApp forward also has a note which says: 'Please forward this message to your friends, relatives and WhatsApp groups you are a part of, to ensure everyone gets to avail the benefit'.
Here is a screenshot of the WhatsApp message going viral:
😂😂✌

मतलब मोदी जी के नाम पे कुछ भी। 😎 pic.twitter.com/hp3utyhJVw

— Narendra Dammy (@nkdammy) July 18, 2018
Here is a screenshot of the website asking users to register to get free scooters: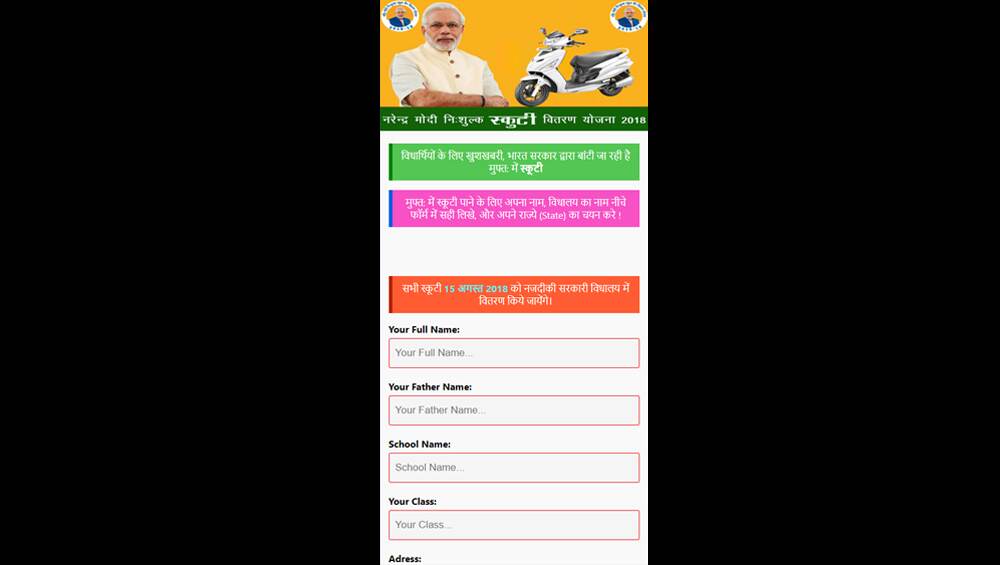 The website asks users to register for the scheme by filling in your name, father's name, the name of your school, the class you are studying in, address and the state you are applying from. After filling in the details, a pop up asks users to forward the message to 10 more people to complete the process.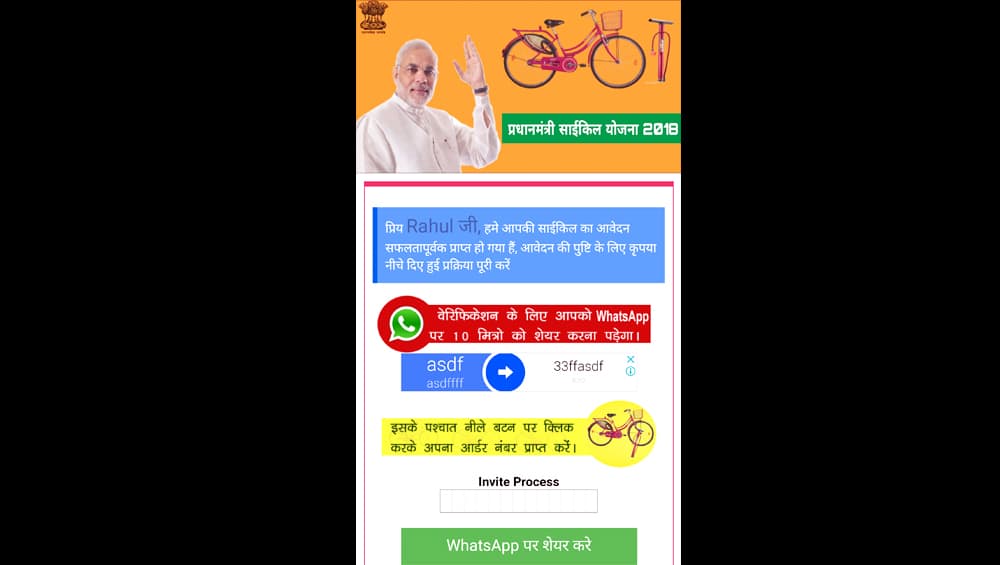 Messages like these claiming to be from the government are quite common these days. These forwards do not quote any credible source but simply sent it to maximum people possible. Fake messages have resulted in mob lynching, health scares and various other crimes in the country. One has to be careful before forwarding messages like these.
To reduce the spread of fake news, WhatsApp has decided to limit the number of people you can send forward messages. Users will be now able to forward messages to just 20 people and only five in India. Earlier, the limit was 250 users.
Top WhatsApp executives, including COO Matthew Idema, met IT Secretary and other Indian government officials to outline steps the instant messaging platform has to set to reduce the circulation of fake messages. A new update on Facebook shows if a particular message is a 'Forward'. WhatsApp is working on various features to tackle the problem of fake news. They have partnered with partners to design a digital literacy programme for educating users on spotting false new.