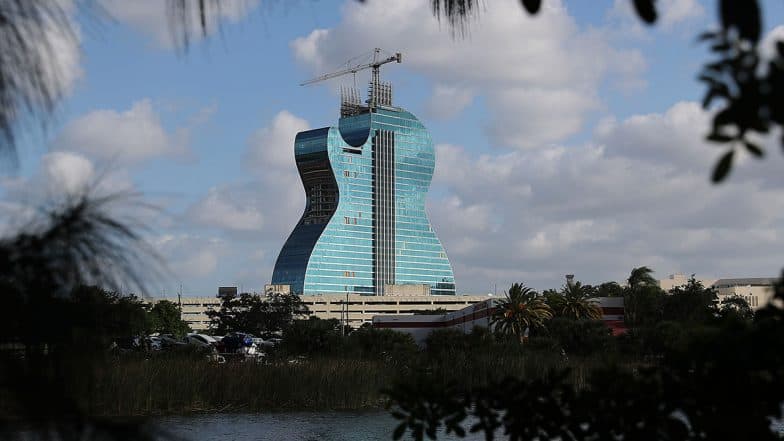 A hotel in the shape of a grand guitar has opened up in Hollywood! The Guitar Hotel is the latest addition in the Seminole Hard Rock empire. The building is a unique addition to South Florida's touristy landscape which includes naming rights on the Miami-area stadium where the 2020 Super Bowl will be played. The Guitar Hotel's grand opening on Friday was graced by celebrities like Khloé Kardashian, Johnny Depp, Morgan Freeman and Sofia Richie. At the launch party, Johnny Depp played the guitar while Khloé, Sofia and Bella danced. Europe's First 'Under' Water Restaurant Opens in Norway; Check Photos And Video.
The 'instrumental' building has a 7,000-seat casino floor, 1,200 hotel rooms and more than 3,000 slot machines and gaming tables. The strings of the guitar shine bright in the night making it another tourist attraction post-sunset. The building can also host concerts and big events. The $1.5 billion projects are designed by Klai Juba Wald Architecture+Interiors of Las Vegas. As pictures and video of the guitar-shaped hotel went viral on social media, many praised the design and the architecture, however many others criticised it. People questioned if the building will be able to stand strong winds. World's Oldest Hotel is 1300 Years Old! It is a Hot-Spring Resort in Japan & Has Been Run by 52 Descendants (View Pics)
World's First Guitar-Shaped Hotel:
The Guitar Hotel Shining In The Night:
PEOPLE quoted Craig A Stoner, Associate Principal of EDSA, a firm that designs outdoor spaces as saying, "Since the guitar is an iconic symbol for the Hard Rock, we embraced its unique shape and form to create a narrative that begins at ground level. When guests arrive they discover a layered, lush and dynamic resort environment that transforms into an experience that changes around every corner, and allows for events, interaction and ultimately excitement."