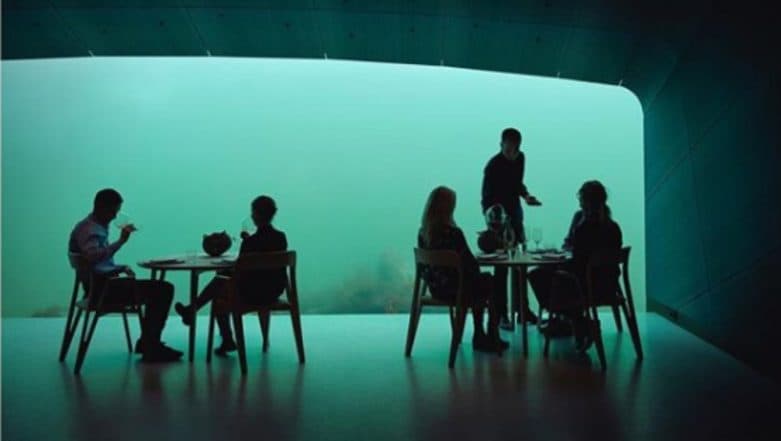 In Norway, people can now dine five metres below sea level. 'Under' is world's largest underwater restaurant in Europe and is located at the southernmost point of Norway's craggy coast. Award-winning International architecture firm Snøhetta built the stunning 34-metre long rectangular building inside water. The restaurant's dress code reads, "No swimwear is required for your evening with us."
Gaute Ubostad, one of the founders of this very special restaurant project told Visit Norway, "We'll attract tourists from all over the world. That is our goal. We aim to become a spearhead in order to have success in the international market. I believe it'll be an attraction that makes that more people consider it exciting to come to Norway and combine a visit here with other things." 'Under' is a semi-submerged building that sits on the sea bed with walls more than three feet thick, to withhold the pressure of North Atlantic waters. World's First Underwater Hotel cum Resort Will Open in Maldives by End of This Year.
Check out pictures of the underwater restaurant below:
View this post on Instagram
Kjetil Trædal Thorsen, an architect and the founder of Snøhetta in a statement said, "Under is a natural progression of our experimentation with boundaries. In this building, you may find yourself underwater, over the seabed, between land and sea. This will offer you new perspectives and ways of seeing the world, both beyond and beneath the waterline."
That's what 'Under' looks from outside!
View this post on Instagram
Guests will able to see the marine life from big oversized glass windows while enjoying food in the restaurant.
View this post on Instagram
Under's kitchen will be under the guidance of Danish chef Nicolai Ellitsgaard, from Måltid, a gourmet restaurant in Kristiansand, Norway. Dinner for around  35 and 40 guests will be prepared every night. The restaurant offers a fixed tasting menu which shifts with the seasons. Diners will be paying USD 260, that can go over USD 400 if you order wine, as alcohol taxes are high in Norway.
Check out what Under's chef has to say:
And if the concept of underwater dining fascinates you, then you will have to wait till September or probably October. While 'Under' opens in April, thousands have already reserved booking online. And tables are not available till August, with a few remaining for September.