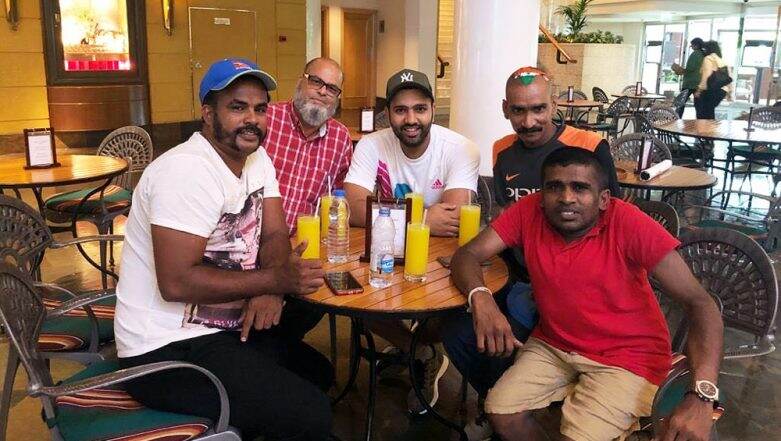 Team India already had sealed a spot in the finals of the Asia Cup 2018, when they beat Pakistan comprehensively by 9 wickets. As Bangladesh and Pakistan yesterday contested for a berth in the finals of Asia's flagship tournament, Indian captain Rohit Sharma decided to let his hair down and spent time with fans from India, Pakistan and Sri Lanka in Dubai. He was seen hanging out with the Indian fan Sudhir Gautam, Bashir Chacha, Mohammad Nilam and Gayan Senanayake. Amidst India vs Pakistan High Voltage Clash, Bashir Chacha Helps Indian Fan Sudhir Gautam. 
The fans themselves are very close to each other. Recently, Bashir chacha arranged tickets and accommodation for the Indian fan Sudhir Gautam who was grappling with financial issues. Rohit Sharma shared a picture of himself with the fans on social media. The snap was captioned read, "So much love for the sport in one picture." BAN Outplay PAK to Set Up Finals Clash With India
View this post on Instagram
Bashir spoke about the gesture to Xtra Time from UAE and said, "Its pure love. You know the money will come and go with Allah's grace. I told Sudhir you just come here and I will take care of everything. I am not a rich person but my heart is as big as an ocean. If I help you, Allah will be happy."
Rohit Sharma is known to be very close to Sudhir Gautam, Bashir Chacha, Mohammad Nilam and Gayan Senanayake. Only last year Rohit sponsored the tickets for Mohamed Nilam who was travelling with the Sri Lankan team as they toured to India. Nilam's father was diagnosed with throat cancer and he had to return home immediately. His return ticket from India was scheduled much later but it was Rohit who not only sponsored the ticket but also kept inquiring about his father's health.