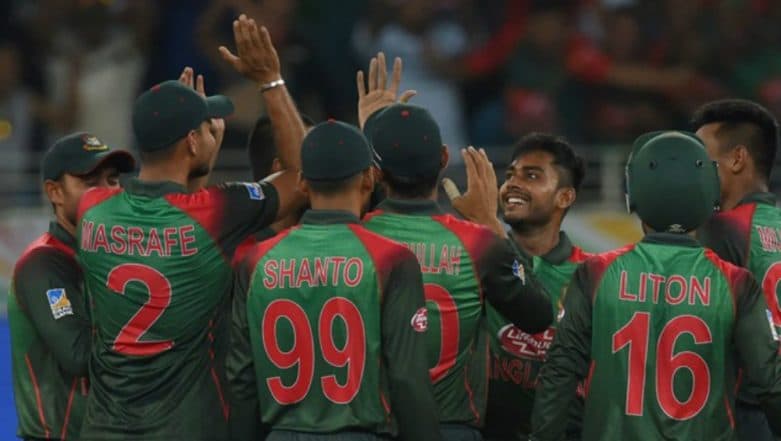 The Bangla tigers had an eventful 2018 where it was a case of so near yet so far in some big tournaments for them. They made good use of home condition to chalk out wins and it is clear they are making good progress in the game. So what has the upcoming year in store for the Bangladesh Cricket Team. We look at the schedule of the team for the 2019 season. Indian Cricket Team Schedule in 2019: List of Series to be Played by Team India Including ICC Cricket World Cup.
Bangladesh tour of New Zealand (February-March): The Bangladesh cricket team will be visiting New Zealand which will be their first opponents in 2019.  The two sides will play 3 Tests and 3 ODI with  50-over cricket set to preside over the Tests. The first ODI is scheduled to take place at Napier on the 13th of February, second ODI is at Christchurch on February 16 and the final ODI is at Dunedin on February 20. The Test series begins on February 28th in Hamilton while the second and third Tests will be in Wellington and Christchurch on March 8th and March 16th respectively.
Bangladesh tour of Ireland (May): It is very rare for a Bangladesh team to visit Ireland but that is going to be a reality in 2019. They play West Indies and Ireland in a tri-nation ODI series in May which would be ideal preparation for the World Cup. Each side will play each other twice in the series with the best two appearing in the final.
ICC Cricket World Cup 2019 (May–June–July): The Cricket World Cup 2019 in England and Wales will be the first time after 1992 where each side will play each other in the pool stage with the top 4 progressing. Bangladesh opens their campaign on June 02 against South Africa in London. They next play New Zealand on June 05, England on June 08, Sri Lanka on June 11, West Indies on June 17, Australia on June 20, Afghanistan on June 24, India on July 02 and end the pool stage with a match against Pakistan on July 05. The final of the World Cup is to be played on July 14 at the iconic Lords Stadium in London. AFC Asian Cup, ICC Cricket World Cup and Other Top Sporting Events to Look Forward to in 2019
Bangladesh tour of Australia (October): The Aussies will be touring Bangladesh in October for a T20 series consisting of 3 games. CA had initially cancelled a series with Bangladesh which was scheduled in 2018 and In order to compensate they have now invited the Bangla Tigers for a short tour.
Afghanistan tour of Bangladesh (October): Emerging nation Afghanistan will play Bangladesh in a single Test match and 2 T20 games in October as ICC tries and accommodates these teams in the International set up. It will be interesting to see Afghanistan play in the whites after a horror debut against India. In the shorter versions of the game, the competition will be tight and will bring in great entertainment.
Bangladesh tour of India (November): India and Bangladesh have had some fierce encounters in 2018 and they will meet in a bilateral series scheduled to be played in India in November. The two Tests to be played in the series will be part of World Test Championship and apart from these two games there is also a T20 series consisting of three games. Pakistan Cricket Team Schedule in 2019: List of Series to be Played by Green Shirts Including ICC Cricket World Cup
Bangladesh tour of Sri Lanka (December): Bangladesh ends their 2019 season with a visit to Sri Lanka to play 3 ODI games. In the  Nidahas Cup and Asia Cup tournaments in 2018, Bangladesh dominated Sri Lanka and the home side will love to get their revenge in these year-ender games.
The Bangladesh fans will have noticed their team is scheduled to travel a lot in 2019 and hence the home condition which has been their twelfth man over the years will not come into play. It is a challenge and one that their team must rise up to.