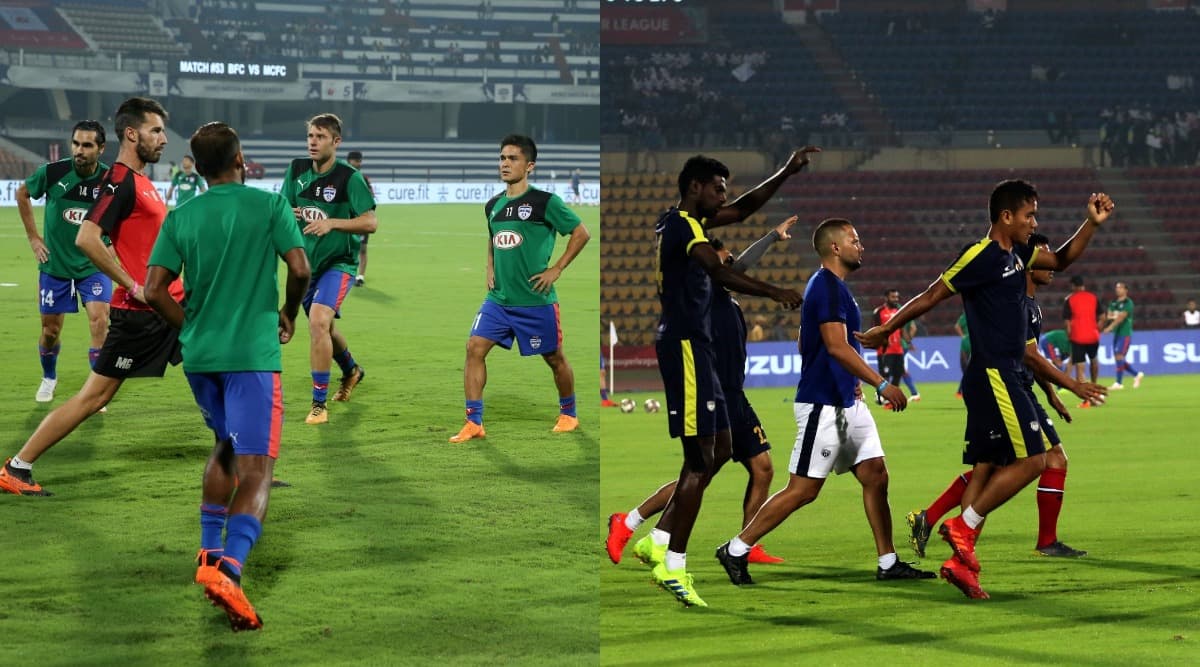 BFC vs NEUFC Head-to-Head Record Ahead of ISL 2019 Clash and Match Results: Defending champions Bengaluru FC will begin their Indian Super League (ISL) title defence against a new look NorthEast United on October 20 (Monday). The Bengaluru FC vs NorthEast United clash on matchday 2 of Indian Super League 2019 will be a repeat of last season's semi-finals in which Sunil Chhetri's Bengaluru overcame a spirited but injury-plagued NorthEast United 4-2 over both legs. Speaking of the Bengaluru FC vs NorthEast United head-to-head (H2H) records, both teams have faced each other six times with Bengaluru leading the race with three victories. The Highlanders have won twice and another game ended in a draw.
NorthEast United nearly cost Bengaluru FC the title after beating them 2-1 at home in the first leg of the semi-finals but lost skipper and top-scorer Bartholomew Ogbeche to an injury. They suffered a humiliating 0-3 defeat in the Bengaluru leg and were eventually knocked out from the competition. That is, however, a matter of the past now and NorthEast have no injuries to worry about ahead of their first match in season 6 of the ISL. The Highlanders also have the high-profile signing Ghanaian Asamoah Gyan in their ranks.
Bengaluru FC vs NorthEast United - March 11, 2019 – 3-0         
The game was edging towards a famous NorthEast United victory with only half-an-hour of play remaining. Miku opened the scoring for the home team in the 70th minute before Dimas Delgado and skipper Sunil Chhetri crushed NorthEast out of the ISL 2018.
NorthEast United vs Bengaluru FC – March 7, 2019 – 2-1
Redeem Tlang gave NorthEast United an unexpected lead in the 20th minute and the home side nearly carried the lead home. But Spanish midfielder pulled Bengaluru FC back into the semis with an excellent goal just three minutes away from the whistle. Juan Cruz Mascia scored the spot to give NorthEast a 2-1 lead with another leg of the semi-final to play.
Bengaluru FC vs NorthEast United – January 30, 2019 – 2-1
Mislav Komorski's own goal gave Bengaluru an unexpected lead before Federico Gallego equalised for NorthEast United at the hour mark. But Bhutanese forward Chencho Gyeltshen scored a sensational goal and set the Kanteerava roof crushing.
NorthEast United vs Bengaluru FC – December 5, 2018 – 1-1
Federico Gallego gave NorthEast United the lead but Chencho Gyeltshen kept Bengaluru on top with an extra-time leveller.
Bengaluru FC vs NorthEast United – January 26, 2018 – 2-1
Juanan gave Bengaluru FC the lead in the 14th minute but Marcio Junior equalised for NorthEast United in the second minute of added time in the first half. Captain fantastic Sunil Chhetri then stepped up to put Bengaluru ahead. The goal proved to be the winner.
This will be the opening encounter for both NorthEast United and Bengaluru FC in Indian Super League season 6. The match will be played at the Sree Kanteerava Stadium in Bengaluru.