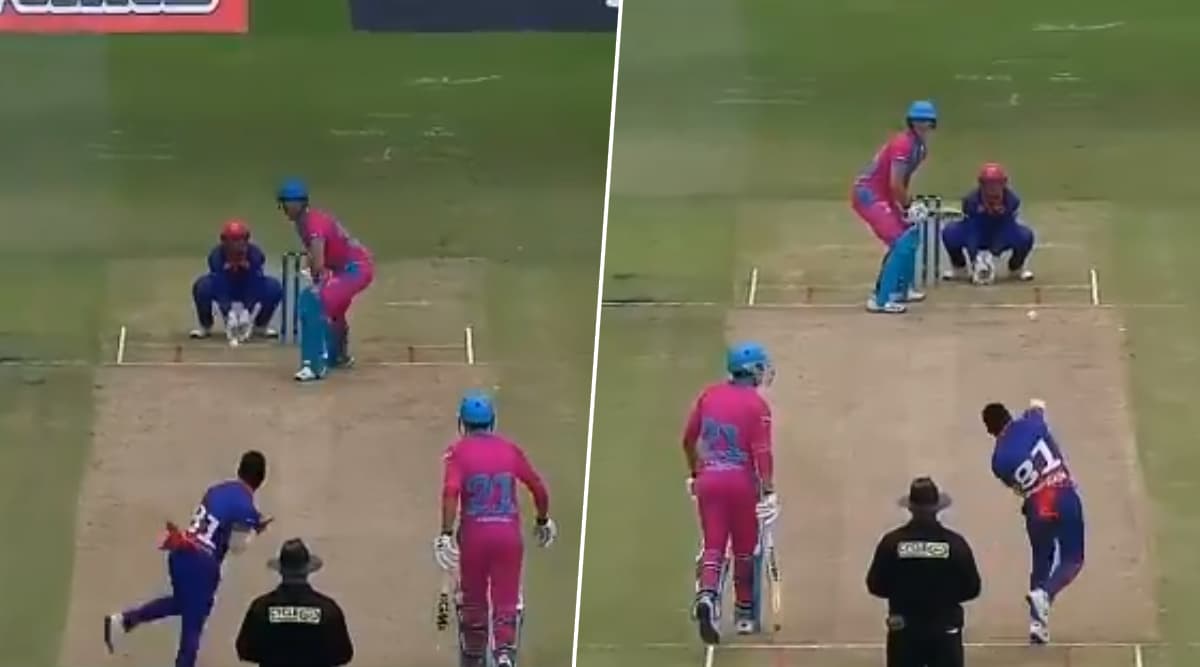 A South African cricketer has created a buzz among cricket fans for his ambidextrous bowling skills. Gregory Mahlokwana took wickets with his both left and right hand in ongoing Mzansi Super League 2019. Gregory plays for Cape Town Blitz in South Africa's domestic T20 tournament. During a T20 match between Cape Town Blitz and Durban Heat, he took wickets with both of his hands and surprised cricket fans all around the world. Hashim Amla Appointed Batting Consultant by Cape Town Blitz for Mzansi Super League, 2019. 
The all-rounder first dismissed opener Sarel Erwee on 16 in the match in the eighth over while bowling with his right hand. He later bowled Durban skipper Dane Vilas in the tenth over, while bowling with his left hand. The video of his wickets are now doing the rounds on social media. Have a look at his wickets below. Mzansi Super League 2019: Moeen Ali to Play for Cape Town Blitz. 
Got Him!
WICKET | SJ Erwee c Linde b Mahlokwana 16 (23b 1x4 0x6) SR: 69.56

Will the ambidextrous Mahlokwana be able to take a left handed and a right handed wicket today?#MSLT20 pic.twitter.com/rkw29YIb3g

— Mzansi Super League 🔥 🇿🇦 🏏 (@MSL_T20) November 17, 2019
Clean Bowled!
WICKET | DJ Vilas b Mahlokwana 8 (10m 8b 0x4 0x6)

That's Mahlokwana's second of the day. His first wicket was bowled Right handed and now he gets a wicket with the quicker left arm.#MSLT20 pic.twitter.com/Gey4JPypq1

— Mzansi Super League 🔥 🇿🇦 🏏 (@MSL_T20) November 17, 2019
Gregory Mahlokwana was able to bag two wickets in the match. Durban Heat won the toss and elected to bowl first in the match. Cape Town Blitz, led by Quinton de Kock, scored 174 runs batting first. Marques Ackerman and Asif Ali made 43 runs respectively. Later, Durban Heat could only score 164/7, losing the match by 10 runs. Wihan Lubbe hit an 83-run knock, however, his batting went in vain as Durban Heat went 10 runs short in the end. Other than Gregory Mahlokwana's dual success, Dale Steyn also took two dismissals in the match.